Lumbini Likely To Be Promoted As World Peace City
Oana/PTI, Nov 25, 2004
KATHMANDU, Nepal -- Buddhist scholars and religious leaders, including from India and Sri Lanka, are likely to consider Nepalese government's proposal to promote Lumbini, the birth place of Gautam Buddha, as a World Peace City during the second World Buddhist Summit starting there on Nov 30.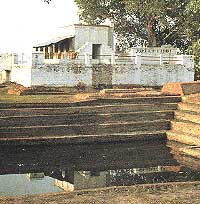 Nepalese Tourism Minister Deep Kumar Upadhyaya said Nepal would seek international cooperation and help to develop Lumbini, which is in the UNESCO's list of World Heritage Sites, 350 km southwest of Kathmandu, as a centre of world peace and Buddhist studies.
Ministers, scholars and Buddhist monks from 26 countries of the world will be attending the three-day summit. High level delegates are expected from India, Myanmar, Sri Lanka, Japan, Combodia and Thailand on the occasion.
All the preparations for the summit, scheduled to be inaugurated by Nepal King Gyanendra, have already been completed and delegates have started pouring in, said an official at Lumbini Development Trust, the main organiser of the meet.
Thousands domestic and international tourists and locals will also gather during the summit, featuring a number of activities including cultural programme, prayer, lectures, presentation of papers and visit to monasteries.
Tourism Minister Upadhyaya hoped that the summit will also help restore peace in the conflict hit Himalayan Kingdom besides placing the country as a pilgrimage tourism destination in the world tourism map.
He has also urged the Maoists to declare at least temporary cease-fire during the summit as a positive gesture for peace.
"The government is ready to hold dialogue with the Maoists," the Minister said urging the Maoists to come forward for a peace talk.
In 1988, Nepal developed a master plan of Lumbini to develop the area, which was later included on UNESCO's list of World Heritage Sites.
Lumbini became the attraction centre of Buddhists from around the world after a German archaeologist recovered a historical pillar there in 1896 built by the Indian emperor Ashoka in the third century B.C.
However, only 20 per cent of the works have so far been completed as per the master plan. Sacred garden, Ashoka Pillar, Madevi Temple, Buddhist museum, cultural village and monastery zones are some of the important structures at Lumbini.