Locals want Buddhist Summit to mark the start of peace
By Akhil Tripathi (with Madhav Nepal in Lumbini), Nepalnews.com, Dec 2, 2004
Lumbini, Nepal -- If Islam navigates to Mecca and Bethlehem shines like a star for Christianity, then Lumbini captivates as the birthplace of Buddhism and the cradle of peace and non-violence for the entire globe.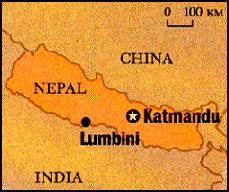 But while the well-preserved churches in Bethlehem sang for Jesus and Mecca attracted huge swarms of pilgrims to its whitewashed, polished and marbled mosques, in stark contrast, decades of gross state neglect towards this holy land of historical, archaeological and religious significance had turned it into a rural backwater. And this nativity site of Shakyamuni Siddhartha Gautam wore a drab and dour look.
But things have changed over the years in Lumbini. A lot of things have been done in the past few years to beautify it and to give it a fresh look. With the long-awaited Second World Buddhist Summit kicking off on Tuesday, this birthplace of Lord Buddha in western Nepal altogether wears a new look with the newly built roads, canals and gardens.

Even the locals are surprised to see this. ?Lumbini looks so beautiful these days,? says Dr Narendra Kumar Mallik, who resides in Rupandehi, adding, ?the monasteries built by different countries, the new Mayadevi temple, newly developed greenery in the Sacred Garden, the ponds and the central canal- all have given Lumbini an entirely fresh look.?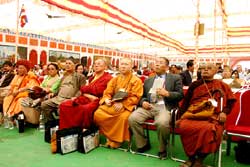 140 delegates and observers from 28 different countries are participating in the Summit, which has been organized to draw attention of all the Buddhists across the world and to project Lumbini as a religious and cultural tourism destination.
Among the distinguished guests include over half a dozen ministers from Bhutan, China, Cambodia and India, among others. This is precisely why the locals also feel that there could not be a better occasion than the Buddhist Summit itself to grab international spotlight to develop Lumbini into a world landmark and a dazzling Buddhist shrine as envisioned by the Master Plan of Japanese architect Prof. Kenzo Tange.
?The Summit has brought along a golden opportunity to draw the attention of the entire globe towards Lumbini?s global significance. Tange?s Plan that envisioned turning this once flat, desolate and isolated area of wetland into an architectural wonder is an ambitious one. It is not possible for us alone with our limited resources to turn Tange?s million-dollar plan into reality?, said Manorama Tripathi, a local social worker.
?International cooperation is a must. The Nepalese authorities should be able to convey this message effectively this time around,? she added. Tripathi further said that having so many ministers from Kathmandu including the Prime minister, Deputy Prime minister, Home Minister and Tourism Minister in Lumbini at the same time was a rare occurrence. ?They should take the commitment made to develop Lumbini back with them when they leave,? she said.
The First World Buddhist Summit, which was organized in 1998, had endorsed 14 different proposals, including developing the Lumbini Development Trust as an autonomous body, building an international airport at Lumbini and constituting an international board to effectively implement Prof. Tange?s Master Plan for Lumbini?s development.
The locals feel that these declarations of the first Summit have been forgotten. ?The rush that was shown to beautify Lumbini to prepare it for the Summit should be given continuity and the Summit should stress on implementing the earlier declarations and commitments rather than coming up with new ones, ? said Dr Mallik.
He further said that shortage of funds, which the LDT officials blame for the slow development of Lumbini should not be as great a bar as being portrayed by them. ?The enormity of the aesthetic, archaeological,
religious and cultural importance of Buddha?s birthplace must outweigh this excuse,? he added.
Agreed Tripathi, ?With the right approach shown to many Buddhist and non-Buddhist countries and organizations interested in making Lumbini a real world landmark, and coordinating with them, dreams can be turned into reality. All that is needed is a strong political will and commitment.?
Perhaps, the most pleasant development of the day was withdrawal of the two-day general strike called by the Maoist rebels in Rupandehi district beginning Tuesday and declaration of a unilateral ceasefire in the distinct for three days.
Local people so desperately wish to see this happening right across the country. Everybody should remember that after carving out his territory and name in the annals of history, wading through a sea of blood and battles and armies of massacred bodies, King Ashoka, too, put down his sword and erected a pillar of peace which even today stands upright as an inspiration to all to defy the creed to kill.
Addressing the conference Tuesday, Bhikku Sumanta Mahasthavir of Thailand called upon all to restore peace in the world. He also stressed on the need of promoting tolerance and understanding among various faiths.
Like in other conflict-ridden parts of the world, Nepalis too are longing for peace though it remains elusive. ?Will the warring parties in Nepali conflict contemplate and agree to give up the on-going unwarranted violence during this pious occasion?,? local people continue to ask.