Monthly Buddhism classes for Tibetan youths in Nepal
By Tenzin Choephel, Phayul, May 4, 2007
Kathmandu, Nepal -- A monthly study session on Tibetan Buddhism and culture has been initiated in Kathmandu by Yarlung United organization. The first such session was started here this morning at Chonjor Tibetan Community Hall in Boudha, where a large section of Tibetans reside with the Boudha Stupa standing as a popular landmark of the place.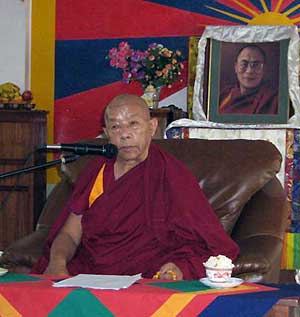 << Ven Abbot Lhundrub of Kopan Monastery during the discourse/Photo by Tenzin Choephel
The Buddhist study is aimed to teach Tibetans, particularly younger generation about basics of Tibetan Buddhism and to provide proper insights into various aspects of Tibetan cultural and traditional practices, including historical background and celebration of various Tibetan festivals.
According to Yarlung United, Tibetan Buddhist scholars and intellectuals would be invited to speak to Tibetans. Ven. Abbot Lhundrub of Kopan Monastery is the first resource person of the programme. Ven. Lhundrup spoke for an hour on the basics of Buddhism, which was attended by some 200 people, including many schools students.
According to Ven Abbot Lhundrub, the initiative is as per the wishes of His Holiness the Dalai Lama. He also expressed deep appreciation to the organizing members and encouraged them to continue the work. Interestingly, he wished seeing young Tibetans taking Buddhist courses and becoming Buddhist scholars like many people in western countries.
Mr. Jigme La, Secretary of Tibetan Welfare Office, also addressed the gathering and stressed on the need of young Tibetans to learn and take more interests in Buddhism.
Abbot Lhundrub also emphasized the importance of modern education in today's world, nevertheless he stressed on Buddhism becoming equally relevant in today's world.
As Buddhists he said it is good to know and understand the good and bad merits of one's deeds both for this and next life. He added that compassion is the most important act of accumulating good fortune. He also stressed that all sects of Tibetan Buddhism are same and one should not differentiate between them. He concluded his teaching by praying for the long life of His Holiness the Dalai Lama, for the quick reunion of Tibetans inside and outside Tibet and peace in Nepal.
As part of the programme, a video on "Basic Tibetan Buddhism" teaching by His Holiness the Dalai Lama was screened at the end. President of the Yarlung United Mr. Dawa Tsering said that the programme will be carried on monthly basis and called for more Tibetan youths to participate in it. He also said that dates and respective speakers for future talks will be announced accordingly on time.