Biggest Buddhist Statue in Nepal consecrated
By Tenzin Choephel, Phayul, May 22, 2007
Kathmandu, Nepal -- The making of a statue of Amitaba Buddha (tib: Woepakme), flanked on both sides by a statue of Avalokiteshvara (Chenresig) and a statue of Padmasambhava (Guru Rinpoche), has been completed and was consecrated today by Lama Sherab Gyaltsen Rinpoche of Manang.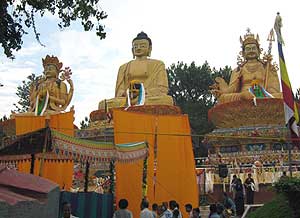 << Amitaba Buddha (center), Avalokiteshvara(L)and Padmasambhava(R)/ photo by Tenzin Choephel
The Amitaba Buddha statue in the center measure a total eight of 67 feet from the ground and is now the biggest Buddhist statue in Nepal. The other two statues measure 64 feet high each.
These bigger than the life size statues of the three Buddhas stand high in the newly created Amitaba Buddha Park located at the west side of the Swoyambunath Stupa base.
The Buddhist community of Nepal led by Tilicho Khangsar Sewa Samiti Manang or the Nyeshang Khangsar Kyiduk, a welfare organisation of ethnic Buddhist people from Manang District of Nepal regards the successful completion of the work a spiritual landmark achievement.
The statues have been crafted by master craftsman Kunsang from Bhutan. These magnificently gigantic statues are a holy sight for people passing around the Swayambunath stupa.
The land for the Amitaba Buddha Park has been provided by the Government of Nepal after clearing many legal obstacles.
After spending over seven years and over 30 million Nepalese rupees since the work began in 1999, the park has formally come to its final completion stage today.
Much of the fund for this ambitious project was raised through donations from Buddhist community of Nepal, including Tibetans and people from other parts of the world. The maintenance and management of the site is now overseen by volunteers of the Tilicho Khangsar organisation.
According to Mr. Karma Choesang, one of the key members of the managing organisation, the initial plan was to build a park and a small statue of the Maitreya Buddha but, the idea changed after they consulted Lama Sherab Gyaltsen under whose holistic guidance the plan nurtured to its present form.
It was Lama Sherab who suggested making a statue of the Amitaba Buddha to the western side of Swoyambunath Stupa. According to him, the west side is the 'Shingkham', which is the realm of Amitaba Buddha to Buddhist belief.
"These statues have been built in such a holy Buddhist site to add goodwill for peace in Nepal and in the World and for the well being of all sentient beings," says Mr Karma. "We are blessed to have the opportunity to contribute to such a holy work and our lives have been blessed by it" he adds.
Nyeshang people from Manang district of Nepal regard Lama Sherab Gyaltsen Rinpoche as their foremost spiritual guru. After completing his Buddhist studies from Rumtek monastery in Sikkim, India, Lama Sherab returned to Nepal to serve the community.
Today Nyeshang people have become one of the most well-coordinated Buddhist ethnic groups in Nepal. They are mostly followers of the Kagyu sect of Tibetan Buddhism.