Buddhist holy month of Sa-ka Da-wa
By Tenzin Choephel, Phayul, June 1, 2007
Kathmandu, Nepal -- Coming in contact with Buddhist community, one might wonder to see Buddhist devotees being spiritually more engrossing usually around this time of the year.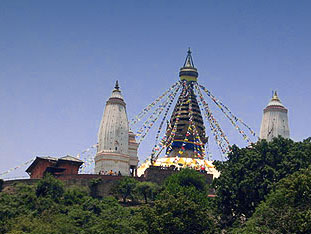 << Swayambhunath Stupa in Kathmandu seen from the base circuit/Photo by Tenzin Choephel
One might have noticed Tibetan Buddhists more vigorously engaging in virtuous deeds like prostrating around holy places, making religious offerings, and practice of generous giving, or fasting, which includes refraining from certain worldly comforts in the last fifteen days and that will continue for another 15 more days.
Tibetans are observing the "Sa-ka Da-wa," the fourth month of the Tibetan Lunar calendar, which is considered the holiest month of the year. On the very full moon day of this month, Buddha Shakyamuni took birth, attained enlightenment and completed parinirvana (death).
Above all, for a Tibetan Buddhist, full moon day of this month is the most auspicious time to engage in virtuous deeds. Tibetan Buddhists believe that a spiritual undertaking in this month and more particularly on the full moon day enables a person to accumulate maximum merits in one's life.
During this holy month; Tibetan and non-Tibetan Buddhists, both old and young, regularly go around monasteries and holy stupas or temples making their prayers.
In Kathmandu, Swayambunath and Boudha stupas are two of the prominent sites where Buddhists will flock around. The most visible presence is seen beginning on the late night eve of the full moon day when hundreds of people are seen making weary rounds while simultaneously reciting mantras.
In fact, in recent years, young members of Buddhists communities here have adopted a unique practice of offering refreshments to people circumambulating around the Swayambunath hill all through the night.
This practice of serving has been embraced as both fun and spiritual by young devotees here, many of whom come out of sheer enthusiasm to join crowd.
The serious ones usually make 13 complete rounds at the base of Swayambunath, approximately a 3-km circuit, which according to Buddhist belief is equivalent to making one full prostration round accepted as a form of standard count.
The month has also become the most favourable time for beggars to flock around these sites and are able to amass more money than as usual. Like Lhamo, giving two rupees each to each beggar will end up spending more than two thousand rupees after giving to over a thousand beggars stationed in line all through the night at Swayambu. There are others seen giving in bigger denominations.
In Dharamsala, India, Tibetans make round of the residential hill of His Holiness the Dalai Lama to earn their merits. The place too attracts more beggars during the month of Sa-ka-Dha-wa, where monks and lay people alike generously sacrifice away money.
Swayambhu literally means self-manifested meaning thereby not a human creation. The stupa located atop the conically wooded Manjushri hill is one of the holiest and most popular Buddhist sites in the world and enjoys a sacredly important place in the cultural and historical sphere of Nepal.
The holy structure is visible from all over the Nepalese capital city and stands as an important landmark of the Kathmandu valley. The historical evidence of the stupa goes back to early Lichhavi time dating around 5th century AD.