Buddhist Monks lead Nepalís protest against Burma
By Tenzin Choephel, Phayul, October 6, 2007
Kathmandu, Nepal -- In support of the ongoing protest led by monks in Myanmar, over 500 Buddhist monks of Nepal joined by Tibetan Buddhist monks, lay people and some political leaders gathered at Maitighar Mandala on Thursday evening and condemned the recent crackdown and killings in Myanmar.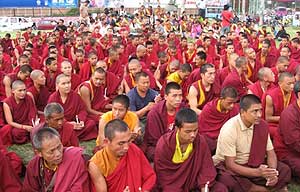 << Buddhist Monks gathered at Maitighar Mandala, Kathmandu on October 4, to support democratic movement in Myanmar. (Photo by Lhuboom Tashi/RFA)
Nepal Buddhist Federation that represents all the followers of Tibetan Buddhism organised the protest gathering. Ven. Karma Sangpo of the Federation addressed the gathering and said that the military government in Myanmar had killed several monks illegitimately and many more have been detained in their monasteries or have been forced to seek refuge elsewhere.
Ven. Karma said that the protest gathering was to stop the killings from happening again in Myanmar. The Buddhist Federation lighted butter lamps and candles to strengthen their prayer offerings.
Pasang Sherpa, leader of the Nepal Indigenous People expressed strong support to the Federation's call and also demanded Nepalese government to oppose the Junta regime's violent Myanmar crackdown on peaceful protest by Burmese Buddhist monks.
Monks later recited prayers for those who were killed in the crackdown and, for peace and freedom for the Burmese people. The Federation also collected signature on a big banner and sent a protest letter to the Myanmar embassy urging the Military Junta Government to stop using violence against the peaceful demonstrators and instead to initiate meaningful reconciliation.