Monks honor Everest conqueror Sir Edmund Hillary
By Gopal Sharma, Reuters, Jan 14, 2008
KATHMANDU, Nepal -- Twenty Nepali Buddhist monks, wearing maroon robes and singlets, offered special prayers at a memorial service on Monday for Mount Everest hero Sir Edmund Hillary, who died last week at the age of 88.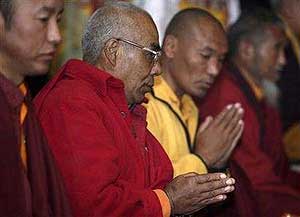 << Buddhist monks pray during a memorial service for Sir Edmund Hillary at a monastery in Kathmandu January 14, 2008. New Zealand's Sir Edmund Hillary, who along with Nepal's Tenzing Norgay Sherpa became the first to conquer Mount Everest, died in hospital on Friday. REUTERS/Gopal Chitrakar
Blowing brass pipes and hitting cymbals, Lamas, the holymen from Nepal's Sherpa climbing community, braved the morning mist and gathered in an ancient monastery in a Kathmandu suburb to pray for Hillary's rebirth.
The New Zealand climber, along with Nepal's Tenzing Norgay Sherpa, made the first human climb of the 8,850 meter (29,035 feet) mountain in 1953, a feat that shot Nepal into the limelight as a popular destination for trekking and mountain climbing.
"We are offering this special Buddhist religious service for Hillary, praying for his rebirth," said 51-year-old Nawang Gyalsen, the head priest of the Thame monastery who traveled to Kathmandu from the remote Solukhumbhu district where Mount Everest is located.
Hillary's Himalayan Trust set up in the early 1960s raised $250,000 annually and has helped build 26 schools, two hospitals, an airport and pipelines in the remote area.
"He was our second father," said 47-year-old Thukten Sherpa, who went to a school opened by Hillary in the region. "One gave us birth and the other opened our eyes."
In a rare gesture in 2003, Nepal made Hillary an honorary citizen during the 50th anniversary celebrations of the historic climb in recognition of his contributions to the impoverished nation.
Nawang Tenzing Jangbu, the incarnated Lama of the Tengboche monastery situated in the shadows of Mount Everest, led the special memorial service in Kathmandu on Monday.
A devastating fire in 1989 destroyed the monastery and Hillary played a key role in raising funds for its rebuilding.
"Every one is reborn after death. These prayers are to ensure good rebirth for him," said Jangbu, 72, sitting cross-legged at the head of one of the two columns of priests in the monastery.
A big portrait of a smiling Hillary wearing a hat was mounted on a chair in front of a huge metal statue of Buddha as butter lamps were lit in the main prayer hall of the yellow cement and brick monastery.
The picture showing Hillary holding a glass was wrapped in cream-colored Khadas, auspicious prayer scarves.
Outside, multi-colored Buddhist prayer flags fluttered in the morning wind.
"Just as manure and water are necessary for a flower to bloom, prayers are required for human beings," Jangbu said, before beginning the ceremony as the air was filled with the fragrance of burning incense sticks.