Tibetan torch illuminates Reek
The Mayo News, May 5, 2008
Murrisk, Nepal -- THE SUN suddenly broke through a mist-shrouded Croagh Patrick (765m) shortly after 3pm on Saturday afternoon last as Namgyal Damdul, the chairman of the Tibetan Community Ireland, set off from the base at Murrisk, carrying a symbolic freedom torch.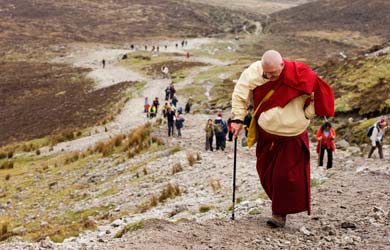 << Donegal Buddhist Monk Lebsang Wangchuk from the Buddhist Centre in Cavan, climbs Croagh Patrick to protest China's decision to carry the Beijing Olympic torch up Mount Everest. Pic: Michael McLaughlin
He was accompanied up Mayo's holy mountain by hundreds of supporters, critical of the Chinese regime in Tibet and the treatment of those protesting against the Beijing Olympics.
The ceremony was organised to highlight China's decision to carry the Beijing Olympic torch up Mounty Everest in the coming days.
Speaking earlier at the nearby National Famine Monument, Mr Namgyal Damdul urged that no bloodshed be spilt when the olympic torch is carried up holy mountain, Mount Everest (8,8400) – known to Tibetans as Chomolungma or Goddess Mother of the World.
Reportedly, Chinese soldiers are already on duty at base camp two, awaiting conditions to improve, to monitor the symbolic ascent of the specially-adapted, high-altitude gas torch.
Damdul also read a list of the names of the 65 dissenting Tibetans known to have been killed since March 14 last. He said Chinese authorities now admitted that 4,000 more protesters have been arrested, imprisoned or disappeared in recent weeks.
The ceremony also included Christian and Buddhist prayers, a dance by a group of Karen Burmese refugees, and Irish traditional music and songs.