A Buddhist messiah in Nepal?
By Dhruba Adhikary and Charles McDermid, Asia Times, Nov 15, 2008
KATHMANDU, Nepal -- Like any deeply revered religious prophet worthy of his robes, Nepal's "Buddha Boy" has returned from the wilderness to spread enlightenment to the masses.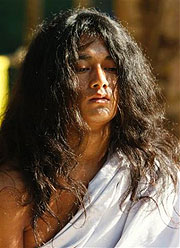 The long-lost mystic in question is Ram Bahadur Bamjan, who many believe is a true-to-life reincarnation of Siddhartha Gautama, who was born in about 560 BC and later became revered as Lord Buddha, the Enlightened One.
In Hindu-majority Nepal, Hinduism and Buddhism frequently overlap. Hindus believe in reincarnation, and Buddhists ascribe to the notion of rebirth - and in Nepal both faiths are often transfixed by religious wonders, miracles and mysteries. Only some 50% of Nepal's 25 million population is literate, and illiteracy is widespread in rural areas.
So it was that Bamjan, looking every bit like a disheveled teenager, emerged from dense jungle on November 10, and got straight to work - preaching at a temple about 150 kilometers south of the capital Kathmandu.
He claimed that his soul-searching hiatus began in early 2005, and his first words were grim. "Incidents of death and destruction are on the rise because people have become indifferent to religious teachings," he announced to the 10,000 reported followers who flocked to the site on the day of his return.
Bamjan, whose age has been placed between 17 and 20, was raised in Nepal's devoutly Buddhist Taamaang community. He has been worshipped since 2005, when he was discovered meditating in the lotus position among the roots of an ancient tree. Local legend has it that he maintained the position for 10 months without food or water.
On his recent return, however, there was no sitting around. Adorned in a shimmering white cloth and appearing quite hale for a hermit, Bamjan kicked off his first sermon by narrating his quest for the "reason of death". It all began, he explained, when he witnessed a human cremation at the age of six.
Interestingly, his tale parallels the Buddhist stories in which Prince Siddhartha, before he reached enlightenment, is said to have seen deaths, diseases and infirmities associated with old age. Still, some among the congregation grew skeptical when they saw Bamjan, sporting long black hair, halt repeatedly during his 45-minute exegesis.
Each time the alleged Buddha paused, an acolyte came forward to whisper in his ear, seemingly prompting him to encourage his audience to pay attention if they intended on receiving happiness. Those who bowed and offered him khaadaa (holy scarves ) received blessings as he placed an august hand on their heads.
Villagers of Ratanpuri town, Bara district, converged by the thousands at the Halkhoria forest to observe the "holy man". The crowd grew larger as a local Buddhist group advertised in newspapers and on radio networks. Instantly, the story captivated the domestic media and drew attention from major international news agencies.
No Buddhist organization has endorsed the claims of Ram Bahadur Bamjan, also known as Palden Dorjee, or his followers. Some have sent investigators to the area and are awaiting reports. Remarks from Buddhist scholars thus far indicate divided opinion.
"Bamjan seems to be someone blessed with divine power," Bekha Ratna Shakya, a devout Buddhist and a former mayor of Lalitpur town, told Asia Times Online.
Kedar Shakya, a writer and former Lumbini University associate, also supported Bamjan's holiness and argued that Bamjan should be allowed to continue to meditate.
The return of Bamjan has prompted many Nepalese to recall an incident several years ago when the nation was fascinated by rumors that stone idols of Ganesh, the elephant-headed Hindu god, had begun to drink milk.
Syncretism Nepal-style
In Nepal, the distinction between Buddhist and Hindu can be nominal. There are also temples in Nepal where the same stone idol is worshipped by Hindu and Buddhist priests. The tradition of Kumari is one striking example: an adolescent girl is selected to be the Hindu goddess, Kumari, but she must be from a Buddhist family. Kumari appears in public at least once a year and gives blessings to the reigning king.
And, after all, Buddha was born as a prince to a Hindu king.
But culture is in an intense transition in Nepal. Since the monarchy was abolished in May, Kumari now offers her blessings to the elected president.
Considering Nepal's devout and syncretic attitudes, the Bamjan episode is not without irony. The post-monarchy government is currently made up of communists who do not support religion. Maoist leader Prachanda, for example, avoids Hindu ceremonies and festivals. If he attends any religious function at all, it is perceived as a public relations exercise with an eye on votes from a particular community. (Newspapers once pictured him amid Muslims with prayer caps.)
As Nepal transitions from a Hindu monarchy to a secular republic, observers believe it has unwittingly opened itself to proselytizers of several religious groups. Even as many Maoists identify themselves as atheists or agnostics, some of their top leaders are said to be lured by affluent churches such as the Unification Church of the Reverend Moon.
Bamboozled by 'Buddha Boy'
Many of the devotees now surrounding Bamjan have described the experience in shades of religious adoration. ("It was an amazing experience to hear and see him. I have no doubt now he is the reincarnation of Buddha," a woman named Sangeeta Lama told The Associated Press.)
But others are more dubious, including the government. Government officials told Asia Times Online that police were investigating a complaint that a Korean national was orchestrating the entire affair. Meanwhile, a group of local residents has called the hysteria a pretext to grab a large tract of lush forest land. They claim that their religion is being taken advantage of.
Doubts also persist as to why no medical check-up was done to determine if Bamjan did actually abstain from food or water during the past months. Others have asked why members of the audience were warned not to ask any questions regarding Bamjan's methods of meditation.
One report claimed that a French journalist filmed Bamjan "nibbling on fruit while supposedly midway through a fast". According to the Australian, "Another correspondent found him asleep while he was supposed to be meditating."
Media reports also point out that when Bamjan emerged as a divine presence for the first time three years ago, devotees gave donations to the tune of 700,000 rupees (US$9,022). At that time, authorities discovered that Maoist elements were cashing in on the superstition prevalent in the region. Police later seized the alms.
But Bamjan's emergence - be he holy man or charlatan - is an important cultural event for a transforming Nepal. The hype and hyperbole he inspires must be considered along with the happiness he has brought to true believers.
With democratic atheists in government, and a cautious eye on religious conflicts in neighboring countries, it is still unclear what role religion will have in the new Nepal.
A teenager named Ram Bahadur Bamjan may bring some kind of enlightenment after all.