Buddhist stupa discovered in Andhra Pradesh's Krishna district
by J. R. Shridharan, The Hindu, Sept 19, 2011
Stupa dates back to the Vajrayana period of Buddhism, about 6th and 7th Century A.D.
Andhra Pradesh, India -- A hemispherical Buddhist stupa belonging to the Vajrayana period of Buddhism dating back to 6th and 7th Century A.D. was by chance unearthed by the Department of Archaeology of Andhra Pradesh last week following sighting of a large brick in the vicinity of a large mound in this village.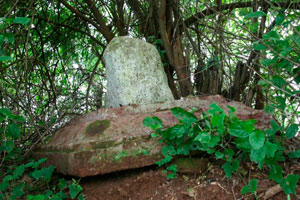 << CULTURAL REMAINS: A hexagonal Ayaka pillar with a square pedestal found on a mound in Munjuluru village of Krishna District in Andhra Pradesh. Photo: V. Raju
The 10-metre (diametre) main stupa is now in a dilapidated state, but is yet another Buddhist site to get added to the four major ones in the district. Due to tilling activity some of the outer structures like aramas and ayakas have vanished. Some of the sculptures, bearing a distinct resemblance to the Amaravathi School of sculpting designs, now adorn some common places of the villages as Hindu deities such as Jambala (Kubera).
Vintage temple
The villagers considered it a vintage temple of Lord Shiva in a barren land of about 1 acre on the village outskirts. The stupa with Ayaka pillars in a hemispherical shape was found adjacent to the Zilla Parishad High School. The village derives its name from Buddhist bikshus, whom the locals used to call 'Munulu' (sages) and thus the name Munuluru which over the years turned into Munjuluru.
Additional Director of Archaeology and Museums K. Chitti Babu, who visited the site along with The Hindu team, said that the stupa belonged to the last phase of the Buddhism (Vajrayana Buddhism practised in Tibet and Mongolia).
He said the barren area, covering many acres close to the stupa, was littered with Buddhist cultural remains.
Conch shells
The archaeologist also collected a number of red and black pottery, including rims in different shapes and sizes. The black, red and scarlet buffed ware, along with conical shaped bowls with heaps of lime conch shells used for plastering during the construction of the stupa, were collected and recorded by Mr. Babu.
The stupa is built with bricks made of husk measuring 23 cm width, 7 cm height and 28 cm length, a typical Buddhist construction material of that period. One of the ayaka pillars, which is in octagonal shape, was perched on a square base.
However, for the locals it is a dilapidated Shiva temple. The government will soon issue a notice seeking objections from the public to declaring the stupa a protected national monument.