Buddhism's birthplace protests against Unesco plan
Indo-Asian News Service, April 24, 2005
Bodh Gaya, India -- People of Bodh Gaya, a temple town in Bihar known as Buddhism's birthplace, Saturday called a strike against Unesco's plans to protect and conserve the world heritage site.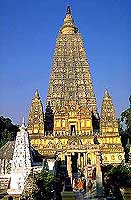 The Unesco team is in Bodh Gaya, about 110 km from here, to assess the physical condition of the 1,500-year-old temple, which was declared a world heritage site in June 2002.
The Unesco had asked government agencies last year to stop violating guidelines and threatened to de-list the temple from the world heritage list.
The temple wore a deserted look as traders and hoteliers observed two-day stir.
The marketplace shutdown was reportedly total to protest a master plan being prepared as per the maintenance guidelines of Unesco.
The Bodh Gaya Nagrik Manch, a body of local people, gave the strike call, sources told IANS from Bodh Gaya over telephone.
Unesco's maintenance guidelines would uproot hundreds of local residents, they added.
The temple, the 23rd historical structure in India to be given the special heritage status, stands at the site near where the Buddha attained enlightenment some 2,500 years ago.
Unesco officials are reportedly unhappy after a three-member expert committee last week complained that illegal concrete structures were mushrooming in and around the temple.
The Unesco had been warning over the last two years that it would revoke the heritage status for the temple if its maintenance guidelines continued to be flouted.
The central and Bihar governments had assured the Unesco that its guidelines - including the enforcement of a strict ban on all construction in a one-kilometer radius around the temple - would be strictly followed.
However, new structures have come up within the restricted area.
The Bihar government had drawn up grand plans to develop the site into a major tourist destination after it was included in the heritage list.
A building boom followed, though the government had agreed not to allow any construction in the buffer area.