Evidence of Buddhist site found
by B. MADHU GOPAL, The Hindu, Oct 9, 2012
Site is at Gudiwada village of Bhogapuram mandal in Vizianagaram district
Vizianagaram, India -- The Department of Archaeology and Museums has stumbled upon evidence of a Buddhist heritage site at Gudiwada village of Bhogapuram mandal in Vizianagaram district.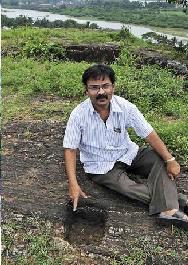 << Assistant Director of Archaeology and Museums Vijayawada and FAC for Visakhapatnam K. Chittibabu showing a cistern found on the hill at Gudiwada of Bhogapuram mandal on the banks of Gosthani river in Vizianagaram district. Photo: C.V. Subrahmanyam
The hill, located right on the banks of the Gosthani River, has been quarried on two sides, reducing it to a hillock.
There are evidences of a circular stupa, and a small cistern like structure carved out of the rock, and large bricks of 52 cm x 27 cm and 7 cm thickness, pieces of red ware and decorated pottery were also found at different levels on the hill.
Shrines
About one-half of the hilltop was flattened and two temple-like structures were constructed, may be around half-a-century ago by the villagers.
The two shrines had raised platforms but there were no idols.
There are bundles of wooden pieces kept in the temples and even to this day villagers worship the wooden pieces. This practice must have been an offshoot of the Buddhist tradition.
"The low height and small size of the stupa, and lack of sculptures indicate that it could have been constructed during the early phase of Buddhism, i.e., Teravada phase," Assistant Director of Archaeology and Museums for Vijayawada and Visakhapatnam (FAC) K. Chittibabu told The Hindu at the heritage site on Monday.
The stupa could have been used for religious purposes. Lime concrete plastering, found on some of the bricks, indicate traces of Hinayana Buddhism like those at the sites discovered at Thotlakonda and Bhavikonda. There are evidences of husk being used to burn the bricks.
The Buddhist monks must have preferred this site as the Gostani river flows by and joins the sea a few kilometres away at Bheemunipatnam. The river was a source of fresh drinking water besides providing a navigational route for sea trade with various parts of the world.
At the foot of a hill, an ancient stone idol of Lord Ganesh with the trunk turned to the left, which indicates that it came from Odisha, an old Nandi idol, a 'Naga Bandham' statue and a Siva Lingam were found.
'Protection important'
"Protection of the site is important. But, this can be done only after the government declares it as a protected monument. Digging of trial trenches would require around Rs.1 lakh and full-fledged excavations could require Rs. 3 lakh to Rs.4 lakh and about a year's time," Mr. Chittibabu added.