Buddhist museum in a bad shape
by V. RAGHAVENDRA, The Hindu, Nov 6, 2012
Proposals for its development are long pending
Andhra Pradesh, India -- A large chunk of tourists who visit the district every year are attracted by the Buddhist museums at Amaravathi and Nagarjunakonda but few people even know that there is a third and equally important museum which has on display an impressive range of inscriptions, stone sculptures and pottery items belonging to the Buddhist era.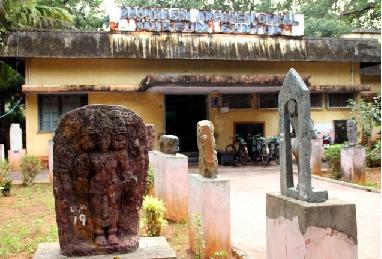 << The pathetic state of the Baudhasree Museum in Guntur. Photo: T. Vijaya Kumar
It is the Baudhasree Archaeological Museum located in the heart of Guntur city (opposite Andhra Christian College) that unfortunately draws a handful of visitors.
Tourist destinations
The Amaravathi and Nagarjunakonda museums stand out as the best tourist destinations due to their beautiful maintenance by the Archaeological Survey of India (ASI) while the Baudhasree museum slowly fades into oblivion.
Little attention is paid to this historic museum by the Department of Archaeology and Museums of Government of Andhra Pradesh for apparent reasons.
It has ancient sculptures dating back to the 2nd Century A.D up to the medieval period. Several centuries-old antiquities are showing signs of withering due to poor maintenance and many other items are kept in the fore lawns for want of space.
The museum has a meagre budget that is barely enough to keep it going and it has no technical assistant to take care of conservation of the antiquities on display. A non-technical person (junior assistant) who is on the verge of retirement is functioning as the museum in-charge and, ticketing income is negligible.
The Baudhasree Museum was established in 1954 and it came under the purview of State Department of Archaeology & Museums 20 years later. The original building which housed the museum gave way to a new one that was inaugurated in September 1992.
The museum used to attract a sizable number of tourists, which gradually came down and the decline in footfalls was more pronounced later, noticeably after many artefacts were taken away to Amaravathi during the Kalachakra event in 2006.
Speaking to The Hindu, Assistant Director of Archaeology & Museums (Vijayawada) K. Chittibabu said there was a proposal to build a first floor to accommodate more valuable things and upgrade the existing library into a research library but the proposals were pending and estimates have not yet been prepared.
However, he exuded confidence that things would move fast in the near future while admitting that there are constraints in developing this historic museum to global standards.