Buddhist site unearthed near Mylavaram
by P. SAMUEL JONATHAN, The Hindu, March 16, 2013
The find is strikingly reminiscent of the Amaravati School of Art
Vijayawada, India -- A Buddhist site, probably belonging to the Satavahana/Ikshvaku dynasties, has been unearthed by a freelance archaeologist Kadiyala Venkateswara Rao, near Pondugula village in Mylavaram mandal of Krishna district.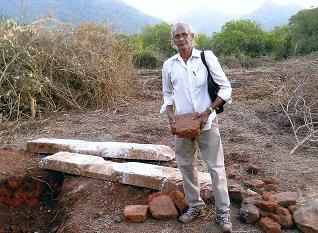 << Freelance archaeologist Kadiyala Venkateswara Rao at the Buddhist site near Pondugula in Krishna district. Photo: T. Vijaya Kumar
Mr. Rao, who hails from Tenali, is also an ex-documentation officer with the Archaeological Survey of India. Among his recent discoveries was a megalith menhir with rock engravings near Karampudi in Guntur district.
On trail of Buddhist remnants in Guntur and Krishna districts, Mr. Rao stumbled upon two marble pillars with engravings of Lotus Medallions and bricks used during the Satavahana period buried in a pit on a field at Pangadi village on the outskirts of Pondugula village, about 10 km from Mylavaram.
The row of sitting bulls and lion motifs carved intricately on the huge Palnadu white marble stones, is strikingly reminiscent of the Amravati School of Art, says Mr. Rao. Similar pillars have been found at Buddhist sites at Jaggaiahpet, Ghantasala, Amaravati, Nagarjunakonda, and Chinaganjam.
The site extending up to 10 acres is called Pattidibba in local parlance. Huge bricks, called Satavahana bricks of size 52X25X9 cm, covered with mortar lay scattered around the site. The site is also strewn with bases of broken pillars and marble pieces.
"The presence of huge bricks indicates that the site may have been used for a construction of a stupa or a vihara or a chaitya. A huge water tank filled with lotus flowers located south of Buddhist site found near the site indicates that the site may have belonged to the Satavahana/Ikshvaku times during 1-3 A.D," Mr. Rao says.
A brick mound, called 'Itukala Koppu' in local parlance, has 5-6 rock cut cisterns, which indicates that the site may have another Buddhist stupa."The discovery of white marble pillars on a Satavahana Buddhist site is important and the ASI should take steps to protect the site and shift the marble pillars to ASI Museum to protect the Buddhist antiquity in the region," Mr. Rao added.