The Compassion of Buddha
By Choe Chong-Dae, The Korea Times, May 9, 2005
Seoul, South Korea -- I have had a couple of opportunities to visit the famous British Museum in London. Having been able to appreciate countless valuable collections of artifacts in museums all throughout the world, I was nevertheless particularly fascinated by a unique ancient statue on display at the British Museum; that is, the "Standing Statue of Buddha," sculptured in Gandhara (now in northwestern Pakistan) during the Kusan Period, in the 3rd century A.D.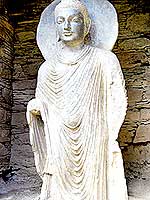 The majestic Buddha image in that statue appears as bold as the image of Apollo, and is sharply dressed in garments resembling those on Greek and on Roman imperial statues. This impressive Buddhist figure was definitely influenced by Hellenic art styles, characterized by heavy linear depiction of draped-clothing folds, by strong muscular physiques and by deep-set facial features, including masculine nose and wavy hair.
Although I sincerely and respectfully feel the Standing Statue of Buddha is unique I nonetheless strongly felt, on viewing it, as if I were standing in front of one of the graceful Buddha images from the ancient Shilla Kingdom in Korea. The Gandhara region has long been a major crossroads of cultural exchange between the East and West - ever since Alexander the Great's expedition to India - thereby producing the first Buddhist images in the East, influenced by the Hellenic culture and art. It is therefore pointed out by many scholars the remarkable Gandhara Buddhist culture had played significant roles as a "bridge" between the Western and Eastern cultures, thereby creating a unique civilization in all its glory and splendor.
Recent art historians have surmised the design and the construction of the Southwestern Asian Buddha images originated from two different areas of the Indian subcontinent - namely, Gandhara and Mathra - with the statues intended as objects of Buddhist worship. According to historical records and to archaeological research, Silla Buddhism in Korea was introduced from what is now northern India and Central Asia through the Northern Silk Road and routes in northern China which had been established as trade routes between East Asia and the Middle East ever since the Scythian expansion toward East Asia commencing in the 5th century B.C. - thereby resulting in cultural influences even on the Silla Buddhist images, here in Korea.
I am not an adherent to Buddhism. But I have visited numerous ancient Buddhist temples over the years, due to my quite enthusiastic interest in the Buddhist cultural heritage. My most recent fond memory and endearing image of travels to monasteries associated with Buddhist artworks of great tranquility and beauty are those of the "Katpawi" Buddha, on Mt. Palgong in Taegu.
The Katpawi Buddha statue - with a large octagonal stone hat, on his head - is nestled atop the Kwangbong peeak at the eastern end of Mt. Palgong. It is a seated Buddha of Medicine from the 7th century A.D. during the Silla Dynasty, gazing out over the southern foothills of Mt. Palgong. The thin lips of his closed mouth and his stout body give the impression of majestic mercy. With its quiet smile, the image gave me a sense of human warmth, and thereby it reminded me of the Gandhara Buddha.
According to legend, those who pray to this Katpawi Buddha, on the first and fifteenth full days of each month on the lunar calendar, will achieve their desires. It is, thus, well-known for its efficacy in relation to people's prayers. Particularly when the annual date for entrance examinations for universities rolls around, the Katpawi is more crowded than ever with people coming from throughout Korea. During my recent visit to the Katpawi Buddha, surprisingly enough I came across some of my colleagues who are Christian but had been offering respects to this Katpawi Buddha, and prayers for their wishes, due to their belief that the Buddha has mythical superpowers. I assume any achievement of their desires, after praying at the Katpawi Buddha, resulted from Buddha sharing with them his compassion, and his mercy, in view of the sincere respect of the Buddhist image they displayed - regardless of differences in religions.
In the course of the history of mankind many saints were born, and they had devoted themselves to saving people from suffering. Having transcended the community of nations and of tribes the founders of religions, such as Buddha, Jesus Christ, Mohammad, or Confucius, have enlightened us with universal truth leading to eternal solutions of life, and of the afterlife. Although their teachings, and expressions, differ from each other, there are similarities amongst their teachings, in terms of general truths sharing compassion, tolerance, mercy, benevolence and love. These founders of religions have therefore been highly admired by many people, regardless of their religion.
Pope John Paul II, who recently passed away, was highly revered by many people, as a great spiritual leader, across religious, and political differences - because he made great contributions to the peace of the world by dissemination of love, peace and reconciliation around the world. We could learn a lesson from the late Pope and great saints, who made great contributions by sharing, with us, their compassion, mercy, harmony, peace and love for all of us, no matter which belief we profess - transcending religion, race, ideology, philosophy and nationality,
It was a great pleasure for me to see, once again, the Gandhara "Standing Statue of Buddha" - now on exhibition at the Seoul Art Center, together with various artifacts from the British Museum. Both of the said statues - namely, the Katpawi and Gandhara Buddha images - were so instrumental in bridging East and West, in ways that share us with us the Buddha's compassion. dkic98@chollian.net
The writer is president of Dae-kwang International and Korean representative of Compagnie Cotonniere of Paris, France. He is also a founding member of the Korean-Swedish Association.