Most Buddhist sites in India in despicable state
by Atul Sethi, TNN Sep 23, 2013
New Delhi, India -- Buddha's legacy in the land from where he spread his religion, seems to be in doldrums. Many ancient Buddhist sites in the country, which are ostensibly being preserved, continue to be encroached and are degrading rapidly.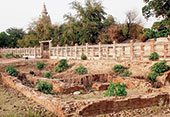 << The excavation site at Taradih in Bodhgaya. It is now said to be a place for dumping waste without a sign board, lighting or proper security measures.
Also, despite state governments allocating funds for their preservation, most states have either spent paltry amounts on the sites or claim that they have no records of the expenditure incurred. These are the results of a series of RTI queries by the Buddhist Forum, an association of individuals involved in spreading awareness about Buddhism.
"It is shocking to learn that states like Bihar and UP - which have a large number of sites associated with Buddhism - claim they do not keep separate records of the budget spent on the sites under their jurisdiction," says Sidhartha Gauri, founder of the Haryana-based forum which posted RTI queries to culture and archaeology bodies across the country to find out about the work done by them on Buddhist sites.
"We asked various states to give information about the amounts spent by them on these sites between 1990 to 2011," says Gauri. "After extensive follow-ups over two years, only 10 states responded with the figures. The collective amount spent by them over the 21-year-period came to a mere Rs 17 crore. This is less than even the budget of a Bollywood movie. Can centuries-old heritage be preserved if we are so casual in our approach?"
Incidentally, the response from Uttar Pradesh to the RTI query was the most surprising one, says Gauri. "The UP state archaeological department gave us the unbelievable answer that it has no Buddhist sites under its jurisdiction despite the state being the cradle of Buddhism." Bihar — another state richly dotted with Buddhist locations — was no better.
"The RTI reply from the state archaeology department claimed that they have only three protected Buddhist sites under their jurisdiction," says Gauri. "However, we have collected information about at least 250 ancient Buddhist sites in the state, most of which are in a despicable condition. Even the Kesariya stupa in Motihari, believed to be the tallest Buddhist stupa in the world, doesn't have proper fencing. Animals are found grazing in its vicinity. Half of the stupa is still unexcavated while the other half — which was excavated sometime back — has started degrading rapidly."
Major RS Bhatti of Intach, which is supporting the Buddhist Forum in its activities, says that it's time states get their act together."There needs to be proper accountability and most importantly, the problem of encroachment needs to be addressed fast as encroachers have been occupying space in these places for generations."
So how can the situation be salvaged? There are no easy answers, says Alok Ranjan of the Nava Nalanda Mahavihara in Nalanda, Bihar who points out that although acts have been enacted and protection laws are present, the situation is quite a complex one. "Most Buddhist sites are in villages. Virtually several ancient sites have transformed into mounds and villages are settled over them. Often, it is not possible to resettle these villages," he says. Another difficulty, he adds, is preserving the sculptures and antiquities in many sites. "Some of them are being worshiped by the villagers and at times these are kept in open which makes them vulnerable and prone to theft. We have realized that awareness among the stakeholders could be the only effective tool in long term."
State of neglect
Taradih (Bihar) An ancient Buddhist site close to the Bodhgaya temple. Now a place for dumping waste without a sign board, lighting or proper security measures.
Asandh (Haryana) One of the tallest stupas in North India. Popularly known as Jarasandh ka qila. The area around the stupa has now been encroached by local communities who reportedly have been pilfering ancient bricks from the site.