China sackings over ruined ancient Buddhist frescos
BBC, 22 October 2013
Beijing, China -- Two officials in China have been sacked after unauthorised "restoration" work left centuries-old Buddhist frescos ruined, state media report.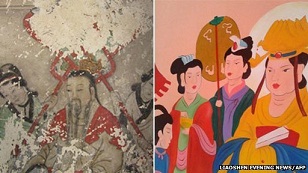 << The ancient frescos were completely painted over with Taoist figures
The paintings were inside a 270-year-old temple in the north-eastern province of Liaoning, and dated back to the early period of the Qing Dynasty (1644-1911).
They have been completely painted over with cartoon-like Taoist figures.
The case, exposed by a blogger, has drawn widespread condemnation in China.
An official in charge of temple affairs and the head of the cultural heritage monitoring team in the city of Chaoyang, where the temple is located, have been sacked over the affair, the Global Times reported.
The Communist Party chief of the office responsible for the scenic area surrounding the temple has also been given a warning, the paper quoted city official Li Haifeng as saying.
The scandal was exposed by a blogger nicknamed Wujiaofeng, who posted photos of the "restored" frescos online and compared them with pictures of the originals.
The local government in Chaoyang immediately launched an investigation after photos of the new paintings appeared online, the Global Times reported.
Permission for the work to go ahead was given by city-level cultural heritage officials after a request by the temple abbot.
But it should have been sought from the cultural heritage office at provincial level to ensure national standards were followed. This had not happened, Mr Li said.
The project was given to a local firm which was not qualified for carrying out repair works on cultural relics, the official said.
With investigations still going on, more officials will be punished, the paper added.
Experts who work for the provincial cultural heritage office in Liaoning have suggested the frescos could be restored to how they used to look, but they will never be as good as the originals.
The "restoration" work has drawn condemnation from users of Weibo, China's version of Twitter.
One user said "I feel some people's brains were kicked by a donkey."
Another said: "Ignorance is horrible!"