Ancient Buddhist temple found
The Daily Star, March 5, 2014
Munshiganj, Bangladesh -- Archaeologists have recently unearthed an ancient Buddhist temple that is believed to be a thousand years old at Nateshwar in Tongibari upazila of Munshiganj.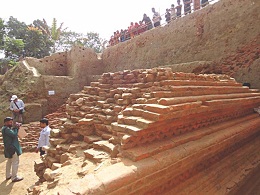 << The remains of a 1,000-year-old Buddhist temple, which archaeologists unearthed at Nateshwar of Tongibari upazila in Munshiganj. The photo was taken yesterday. Photo: Star
Cultural Affairs Minister Asaduzzaman Noor made a formal announcement of the discovery of the temple during a press briefing at the archaeological site yesterday afternoon.
A prayer room of Buddhist monks measuring nine metres in length and nine metres wide, an octagonal stupa and brick-built drains and other artefacts were also found there.
While touring the site, Noor, also a renowned media personality, expressed his surprise at the findings at such a historically important place in Munshiganj.
"It is a matter of pride not only for Bikrampur but also for the whole nation," he told the briefing.
He also expressed the hope of unearthing a monastery beside the shrine.
Archaeologists found most of the sections of the temple were in a state of ruin, except for a 2.40-metre tall structure in south-western part.
The basement of 1.75-metre wide wall was constructed with over-burnt bricks, probably to protect the structure from moisture.
The artistic brick works on the temple also reveal its architectural significance.
Agrashar Bikrampur Foundation took the initiative to excavate the site in 2010 after receiving financial assistance from the cultural affairs ministry.
Dr Sufi Mostafizur Rahman, a professor of the archaeology department of Jahangirnagar University, is leading the excavation team.
Awami League presidium member Nuh-ul Alam Lenin, Deputy Commissioner of Munshiganj Md Saiful Hasan Badal, among others, were present at the press briefing.