Archaeologists unearth Buddhist artefacts in Kilinochchi
Daily Mirror, 4 June 2014
Kilinochchi, Sri Lanka -- Archaeologists have unearthed several Buddhist artefacts including slates, ancient bricks and Sri Pada symbols in excavations carried out in Kilinochchi, Sivanagar and Uriththirapuram, the army said.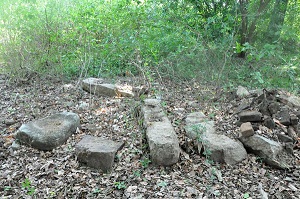 Major General Sudantha Ranasinghe, Commander of SFHQ-KLN had requested a team of archaeologists to visit the site after an army troop came across the site a few days ago.
"Archaeologists have recovered stacks of ancient layers of bricks believed to be from a pagoda, slates with the Sri Pada symbol and stone posts with prints of the Sri Pada, confirming the existence of a Buddhist temple from the Polonnaruwa period in Kilinochchi," the army said.
The archaeologists have declared the site a sacred site, pending further excavations, extensive research and comprehensive evaluation, alerting the security forces as well as government authorities of the new discovery.
According to the residents of the area a small Pulleyar Kovil had occupied the site from the 1940s and been replaced by the Shivam Kovil which was built in 1980s and is still standing.
Some alleged that the LTTE had destroyed a large Buddha statue which a Kurukkal (chief priest) had found in 1965 while clearing the jungles around a Kovil at the site.
The priest had come across the ruins of a pagoda, some Buddha statues, stone carvings and a Bo tree in the area.
It was said that a 4 to 6 foot tall Samadhi Buddha statue and a statue of a lion plus a moonstone had existed at the site. The LTTE had however felled the Bo tree and later replaced it with a Palmyrah tree.
Major General Sudantha Ranasinghe, Commander, SFHQ-KLN, Colonel N.P Akuranthilake, 662 Brigade Commander and several senior officers visited the location soon after its discovery by troops serving there.