Buddhist stupa gets facelift in Prakasam
by S.Murali, the Hindu, April 20, 2015
Andhra Pradesh, India -- The magnificent Buddhist stupa in this sleepy village, has been given a facelift by the State Government to woo national and international tourists in a big way. The stupa is the biggest in Andhra Pradesh.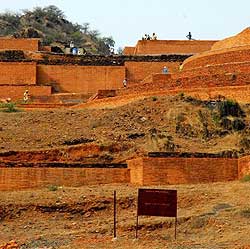 The remnants of the stupa overlooking the Gundalakamma river will not only floor the Buddhists but also nature lovers. It rivals the Sanchi stupa in grandeur. The ruins include a Maha Chaitya with a dome of 1.6 meters height and a drum of 60 cms wide, a three-winged vihara. The remote village has been a major Buddhist centre in the past attracting Buddhists from different parts of the country.
Tourism Assistant Director M.Nagabhushanam said ''Chief Minister N.Chandrababu Naidu is keen on improving the tourist infrastrucutre at Chandravaram and promote religious tourism by organising package tours to the stupa, among other places, Amaravati, Chandavaram and Nagarjunakonda.
''We are giving finishing touches to the conservation work on the Second Century BC Buddhist stupa with utmost care'', explained State Archaeology and Museums Director G.V. Ramakrishna while talking to the Hindu.
With Rs.1 crore released by the Centre under the 13th Finance Commission, the department had ''exposed'' the magnificent stupa, 120 ft in circumference and 30 ft in height'' on a hillock with a marble sculpture of Lord Buddha in meditating posture at the entrance.
Special size bricks of the size 52 x 26 x 7.5 cm were used then for building the marvellous religious structure which include a meditation hall, rest rooms and stairs from three sides.
The events related to Buddha's life and teachings, including the great renunciation, Bodhi tree, throne, pillar of fire and Dharmachakra are found on the four sides of the stupa at Chandavaram, 70 km from Ongole.
The dilapidated terraces leading to marvellous relgious structure have been set right by the department, Archaeology and Museums Department Assistant Director John Kamalakar said the department had mooted a proposal to develop a site as museum with artefacts unearthed from in and around Chandavaram and sought allotment of site by the revenue officials. A bridge across the Gundalakamm river has been proposed to provide quicker access to Kurnool-Guntur state highway.