16 Buddhist stupas found at Nateshwar
The Daily Star, Jan 31, 2016
Excavation on for 1,000-year-old site
Munshiganj, Bangladesh -- Sixteen Buddhist stupas, around 1,000-year-old, have recently been unearthed at Nateshwar in the district with a rich archaeological background.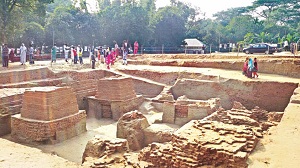 << The site of the 1000-year-old Buddhist stupas discovered by archaeologists in Nateshwar in Munshiganj. Photo: Star
The aesthetics of these stupas is unique in architectural style. There are 16 stupas in four inter-connected "Stupa Hall Rooms," each square-shaped and fenced with brick walls 16 metres in length and 3.5 metres in width.
Evidence of this ancient civilisation came to light during an excavation jointly conducted by Bangladesh and China at Nateshwar Deul under Tongibari upazila.
Last year an around-1,300-year-old Buddhist city was unearthed on the eastern side of this site. Apart from Buddhist stupas, various structures including old roads and drains were found there.
Prof Sufi Mustafizur Rahman of Jahangirnagar University, also research director of the Excavation Project, and the director of Hunan Provincial Archaeological Institute of China expressed their high expectation that Nateshwar is going to be a part of World Heritage.
Nuh-ul-Alam Lenin, director of the Excavation Project, said Nateshwar, adjacent to Bajrajogini, the birthplace of Buddhist scholar Atish Dipankar, a holy place for the Buddhists, would become their second holy site.
He said the aesthetic structures would attract many tourists, adding, the archaeologists of China had expressed their interest to set up an "Archaeology Park" there. Besides, a museum with various facilities including research work, seminar halls and accommodation for tourists would be there.
ADVERTISEMENT
Prof Mustafizur Rahman said carbon-14 test on 26 unearthed relics at Beta Laboratory in the US had proved that the archaeological site was more than 1,100 years old.
The carbon tests had shown that there were two stages of human habitat in the area -- the first from 780-950 AD and the second from 950-1223 AD, he added.
Archaeological surveys and excavations in Bikrampur area started in 2010. Excavations led by the Advanced Bikrampur Foundation unearthed evidence of human habitation in nine archaeological areas there as of 2013.
The excavation in Nateshwar started in 2012. The Hunan institute got involved in the project covering more than 10 acres of land in 2014.
Analyses of a number of unearthed archaeological findings have already been completed. The unearthed earthen pots have been divided into two categories -- red and black. Most of these were used as cooking pots, bowls, water container and lamps.
The pots were decorated with various motifs. Three experts on such earthen pots came from China in June last year and recreated about 100 such pots.
If the four vast Stupa Halls are viewed as a whole, it looks like a unique cross-shaped architectural structure.
The Stupas and Stupa Halls built between 1000 AD and 1300 AD are a proof of the efficiency and experience of those who planned and designed these structural marvels.
Prof Mustafizur said different dimensions of Buddhist philosophy were symbolically presented in the stupa architecture. The octagonal stupa found at Nateshwar represents eight holy "mantras" of the Buddhists.
A unique 30-metre-long and two-metre-wide road going from north to south has been found in the recent excavation. Earlier, a side road going to east and west sides from the main road had also been unearthed. The placing of bricks in vertical and horizontal structure also testifies to the civil engineering skills.
A nine-by-nine-metre Buddhist temple is also an important finding. Marvellous brick designs on the walls of the temple are also an important part of Bangladesh's temple architecture.
Experts believe that with further excavation, more important relics will be found. They say the unearthing of Buddhist stupas, special type of roads and other findings at the birth place of Atish Dipankar is remarkable in world history.
Prof Sonia Nishat Amin of history at Dhaka University said the findings at the site so far increase its claim to be a part of World Heritage.
Executive Director of Agrashor Bikrampur Gyanpith and noted educationist Sukhen Chandra Banerjee said about 3,500 square metres of area has so far been excavated.