Bagan builders 'destroying Bhuddists' medieval pagodas
by Richard Lloyd Parry, The Times, June 28, 2016
Bagan, Myanmar -- Experts report that more than 600 pagodas at the 10,300ha Bagan complex have been damaged by unqualified builders.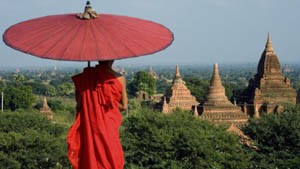 It is one of the great historic sites, a medieval city in the jungles of Myanmar, an archeological treasure to rank with Cambodia's Angkor Wat, but the Buddhist site of Bagan is being deliberately destroyed in inept efforts at restoration.
Experts report that more than 600 pagodas at the site, a city that flourished between the 9th and 13th centuries, have been damaged by unqualified builders hired by the government. In some case,s monuments due to be renovated have been completely rebuilt, leaving none of their original structure intact.
"They use a shovel when they should be using a paintbrush," said Sun Oo, an architect who is surveying Bagan's sites. "These (rebuilt) buildings have nothing of architectural value or ancient art left. Why should tourists come to see them?"
Since Myanmar's military junta left power five years ago, more foreign travellers have come to the country — and Bagan, formerly called Pagan, has been one of the biggest attractions. At the height of the Kingdom of Bagan, it had 10,000 temples, pagodas and shrines.
In a sign of how poorly it is administered, it is unclear how many of these survive in the Bagan archeological zone, which covers 10,300ha. In 1975, the number was put at 3312, but it is now said to be 2230.
The task of maintaining the huge site lies with Myanmar's National Museum, but according to Mr Sun Oo, a member of the heritage management committee, the system of appointing contractors to carry out the restoration work is disastrously bad.
"It's time to change the system of putting conservation work out to tender," he told the Myanmar Times newspaper.
"The masons hired by the tender-winning companies do not have the required skills. There are not enough masons qualified to do preservation work on ancient architecture. This requires funding, capacity building and proper materials."
Last year, at least two temples collapsed because of incompetent restoration compounded by rain. Kyaw Oo Lwin, head of the department of archeology and national museum, said the 10m building known as Temple 1752 was restored in 2003 with the wrong type of brick.
"Some Bagan temples are more than 1000 years old," Mr Kyaw Oo Lwin said at the time. "They are fragile and, like elderly people, need caring for at all times. Partial collapses are common, but this is the first time the entire structure has fallen."
Visitors to Bagan pay a fee of 5000 kyat ($5.60) and last year takings were in excess of $5 million. But there was uproar when it emerged that only 2 per cent of this was spent on preservation, with 90 per cent going to the government and the rest to the management firm that collects fees.