Telangana has Buddhism roots
by C R GOWRI SHANKER, DECCAN CHRONICLE, Feb 12, 2017
Evidence found in pre-Satavahana coins dating back to 1st Century BCE.

Hyderabad, India -- Fresh evidence has been found that Buddhism flourished in Telangana state in ancient times, at remote village of Badankurthi on the banks of the Godavari near Khanapur in Nirmal district.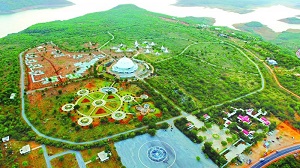 << An aerial view of Buddhavanam, the Buddhist heritage theme park, at Nagarjunasagar. The theme park is the first of its kind in the country and depicts major events in the life of Buddha.
Asked about the findings at Badankurthi, Mr P. Nagaraju, assistant director, department of archaeology and museums, said excavation was yet to be taken up but a brick alignment threw light on the Buddhist links of the site. "A temple was constructed atop the brick alignment dating back to Satavahana and Ishkvaku times," he said.
New research indicates that the the sage Bavari, who was at Badankurthi, had heard of the Buddha and deputed 16 of his disciples to hear his teachings. At that time, Buddha was said to be preaching at Venuvana in Vaishali. The disciples were identified from historical evidence as namely Ajita, Metta, Punnaka, Mettagu, Upasiva, Nanda, Dhotaka, Hemaka, Todayya, Kappa, Jatukarni, Udaya, Bhadravudha, Posala, Megharaja and Pingiya to Magadha.
The disciples went from Badankurthi to Mulaka in Maharashtra and reached Vaishali in Bihar via Mahismathi, Ujjaini and Vidisha in Madhya Pradesh and Kosambi and Saketapura in UP. State archaeologists say Buddhism flourished between the 1st Century and 4th Century BCE in several places in what are now Karimnagar, Suryapet, Nalgonda and Khammam districts. This apart, there are several sites in which is now Andhra Pradesh, at Jaggaiahpet in Krishna district, the ancient Amaravati in Guntur district and near Visakhapatnam.
"We have found evidence of pre-Satavahana coins at Kotilingala which date back to the 1st Century BCE. The kings of those times promoted Buddhism," said Mr Nagaraju. According to another study, after Buddha's Mahaparinirvanam, the present day Bodhan in Nizamabad district, which was the capital of the King Asmaka of the erstwhile Podali kingdom, also converted to Buddhism.
"Buddhism flourished in many of parts of Telugu States for a long time. We are gathering evidence in many places including Badankurthi. Badankurthi is mentioned in some books. We are studying it and will develop the place," said Mr Mallepally Laxmaiah, special officer of the Buddhavanam Project. Kotilingala, the capital of the Satavahanas, remains a cornerstone in Buddhist history even today. Excavations carried out between 1979 to 1984 had unravelled Srimukha Satavahana's currency, remains of wells, drainage system, brick construction, Roman coins, indicating that it was a centre for trade and commerce.
Apart from Kotilingala, evidence of Buddhist links have been found at Dharmapuri, Dulikatta, Peddabankuru and Dhoolikatta in Karimnagar district; Phanigiri, Gajula Banda, Tirumalgiri Vardhamanakota, Chada, Tirumalagiri, Nagaram and Singaram in Suryapet district and Nagarjunakonda (Sriparvatam) in Nalgonda district and Nelakondapalli in Khammam.