ASI explores Buddhist pillar of pre-Christian era in Odisha
by Minati Singha, TNN, Jul 31, 2017
BHUBANESWAR, India -- Excavation wing of Archaeological Survey of India (ASI)'s Bhubaneswar circle explored a Buddhist pillar and other archaeological remains at Jharhiamba village near Talcher in Angul district.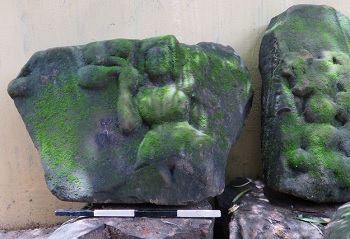 The findings are expected to be dating back to pre-Christian era of 1st and 2nd century BC/AD. This pillar is the second of its kind found in Odisha as the other one being worshipped as Siva linga at Bhaskareswara Temple in Bhubaneswar.
"After exploring the remains we sought opinion from different scholars and experts and concluded that it might belong to pre-Christian period. Further excavation in the sight will surely throw more light into the emergence and spread of Buddhism in Central Odisha and its relation with other Buddist sites in the state," said Dibishada B Garnayak superintending archaeologist of excavation branch at ASI Bhubaneswar.
The pillar is an imitation of Ashokan column and is worshiped as Shiv Ling while other pieces of the pillar are lying scattered in Praneswar temple premises. "If the column is brought together its height would be around four metre.
Local people said the base of the largest portion of the pillar is buried about three metres from the present ground level which they have excavated out of curiosity. Apart from these, fragment of its bell capital is lying scattered in the temple premises along with fragments of suchi and thaba, moulded brick, sculptures are found from the site," Garnayak said.
The findings suggest a Buddhist establishment might have existed in central Odisha during pre-Christian period, he added.
Few metres east of the site potsherds of red ware, red polished ware, black ware, grey ware, black-and-red ware and terracotta tiles were also found and few sculptures were also noticed with early features which may date to pre-Christian era, ASI sources said.
"The site has been rapidly damaged by natural agencies like river Brahmani and industrial and mining activities in the surrounding areas. Hence, the Excavation Branch is planning to undertake a trial trench excavation at the site which will reveal important archaeological evidences of the site and throw some new light on Buddhism of Odisha as well as India," Garnayak pointed out.