China to Take Innovative Measures to Protect Grottoes against Water-erosion
Xinhua, July 28, 2005
Shanxi Province, China -- Chinese experts are experimenting with new methods to cure water-erosion in some of the country's endangered ancient grottoes.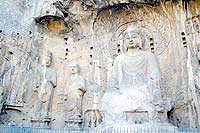 << Buddhist grottoes
Water-erosion, including mountain water infiltration, rain and coagulated hydrosphere, are greatly responsible for the damage of some valuable rock relic sites across China, said Yuan Daoxian, an academician with the Chinese Academy of Sciences, at the ongoing grottoes seminar held at Yungang Grottoes in north China's Shanxi Province.
At least 21 of the 45 main caves in the Yungang Grottoes, a 1, 500-year-old World Heritage site, have been suffering from water erosion, according to Huang Kezhong, a distinguished expert on the study of rock and earth relics.
The fate of other famous grottoes, including the Dunhuang, Dazu, Maijishan and Longmen, are also under threat as cracks, sediment and disfigurement of frescoes have been found, experts attending the international seminar pointed out.
Chinese experts are researching new methods, including covering the top of the caves with special waterproof soil layers, measuring the coagulated water with newly developed equipment, and building eaves for the grottoes, to stop the impact of water-erosion.
China has been using some physical and medical measures to protect its valuable grotto sites over the past years. Experts stressed that different ways should be adopted for the purpose in accordance with the specific conditions of the caves.
Grottoes are man-made caves built mostly on cliffs to house statues, frescos and architectures.With more than 1,500 years of history, the Chinese grottoes are products of Buddhism and traditional Chinese culture.
China's four grottoes of Dunhuang, Dazu, Longmen and Yungang are on the list of World Cultural Heritage sites of the United Nations Educational, Scientific and Cultural Organization.