Stupas, inscription indicate Lord Buddha's visit to Kalinga
by Prafulla Das, The Hindu, Aug 4, 2005
10 stupas matched with the mention made by Chinese traveller Hieun Tsang during his travel in AD 629-645 ``The rare discovery would solve many unanswered questions pertaining to the location of the capital of Kalinga.''
BHUBANESWAR, India -- Buddhist stupas and inscriptions indicating Lord Buddha's visit to the erstwhile Kalinga have been found in archaeological excavations in Jaipur district in Orissa. Emperor Ashoka built 10 stupas in the Kalinga.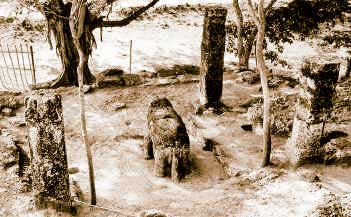 << Buddhist heritage at sites near Kayama hills
``The rare discovery would solve many unanswered questions pertaining to the location of the capital of Kalinga, preaching by Lord Buddha in Kalinga and the Kalinga war,'' Culture Minister Damodar Rout told presspersons here on Wednesday.
ASI confirms discovery
He said experts of the Archaeological Survey of India confirmed that the discoveries made by researchers of the Orissa Institute of Maritime and South-East Asian Studies, which is under the Culture Department. The excavation was undertaken with licence from the ASI.
The discovery includes 10 Ashoka stupas, a fort which housed the royal headquarters of the Kalinga State and remains of the Ashoka period dating back to the third Century B.C, say Dr. Rout and authorities of the institute.
The sites are under the Dharmasala police station limits.
Excavations have already been carried out at four of the stupas located at Tarapur, Deuli and Kayama in Jajpur, according to Debaraj Pradhan, director of the excavation project and secretary of the institute.
Work will be taken up at the other stupas soon. The first discovery of an Ashoka stupa was made at nearby Langudi Hill.
Both Dr. Rout and Mr. Pradhan said the 10 stupas matched with the mention made by Chinese traveller Hieun Tsang during his travel in AD 629-645. Hieun Tsang wrote that Lord Buddha visited the region where Ashoka constructed 10 stupas.
Pottery found
``In the course of the excavation that started in December 2004, we unearthed square stupas made of latrine blocks, burnt bricks, railing pillars and cross-bars, Besides, pottery and terracotta remains of the Ashoka period have been discovered in these hills,'' Mr. Pradhan said.
The discovery of several inscriptions at Radhanagar village and other corroborative evidence clearly proved that the place was Toshali, royal headquarters of Kalinga during the time of Ashoka.
Although scholars tried to identify Toshali with Sisupalgarh near Bhubaneswar, no inscriptional evidence was found so far, Mr. Pradhan said.
Venue of Kalinga war
Mr. Pradhan said the research and excavation might also lead to the discovery of the exact venue of the Kalinga war. Till now it was said the war was fought on the banks of the Daya on the outskirts of Bhubaneswar.
But the current excavation and survey gave indications that the war might have been fought at Yudha Meruda, which comes under the Korei block near Dharmasala.