Precious grottoes on "Silk Road" under Sino-foreign joint protection
Xinhuanet, Sept 6, 2005
Beijing, China -- Two sites of precious grottoes on the ancient "Silk Road", the Longmen Grottoes and Kumutura Thousand Buddha Caves, have been put under a joint protection project by Chinese and Japanese governments and the United Nations Educational, Scientific and Cultural Organization (UNESCO).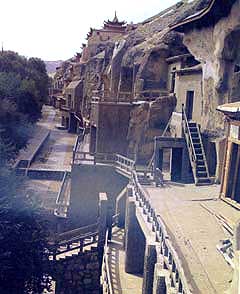 << Ancient grottoes in Dun Huang
Representative of the UNESCO Beijing Office, Yasuyuki Aoshima, and Vice-director of China's State Administration of Cultural Heritage (SACH), Zhang Bai, signed an agreement on the second phase of the protection project here on Friday.
The project will not only offer funds for the protection of the two sites, but also help introduce advanced technologies and methods of cultural heritage protection in the world to China, and help train a batch of personnel of heritage protection, said an official with SACH.
He said the leaders of China and Japan signed an agreement in 1998 on the protection of the cultural heritage sites along the "Silk Road".
According to the agreement, Japanese government invested five million US dollars to the Japanese Trust-in Funds under UNESCO for the protection of the heritage sites on "Silk Road".
All of the funds will be used to protect the Kumutura Thousand Buddha Caves in northwest China's Xinjiang and Longmen Grottoes in central China's Henan, said Aoshima.
The first phase of the project was launched in 2001. Experts have conducted investigation and survey to the two grottoes and made a protection plan and found the main causes of the damage to the grottoes.
In the second phase, experts will focus on repairing and consolidating the damaged caves and murals.
Kumutura Thousand Buddha Caves, located 20 kilometers northwest of Kuqa County of Xinjiang, has a total of 112 caves and mural paintings of 5,200 square meters.
Located near the ancient imperial capital of Luoyang, Longmen Grottoes are composed of more than 2,300 carved caves and niches hollowed out of steep limestone cliffs flanking the Yihe River. The grottoes were firstly built in 493 A.D. and the construction lasted more than 400 years. There are also more than 70 Buddhist pagodas, 110,000 sculptured figures, and 2,800 tablets in the caves.
Natural disasters and human activities have brought many damages to the two sites of grottoes. Advanced protection technology and international cooperation may help better preserve the precious heritage sites, said experts.