Buddhist Structures Dug up in Bamiyan
Cultural Heritage News Agency, Sept 12, 2005
Tehran, Iran -- A Buddhist residence and a religious meeting place have been discovered from under a huge amount of debris in the Bamiyan province of Afghanistan.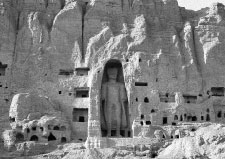 << A Buddhist residence and a meeting center have been discovered after a year of excavations near destroyed Buddha statues of Bamiyan.
The Buddhist massive statues (53 and 35 meters in height), which had been carved out of a sand rock, were a wonder for tourists, scholars, and connoisseurs of art and culture, devastated by the Islamic Fundamentalist Taliban regime which was determined to destroy the cultural heritage of Afghan ancestors.
Habibolah Takhari, Afghanistan cultural deputy in Iran, says that after one year of the Japanese archaeologists working in Bamiyan, at last two houses have been discovered near the destroyed Buddha statues. According to Takhari, archaeologists believe that these two buildings were Buddhist residences and a place for holding religious meetings.
The gild designs on the walls of the newly discovered buildings and some unearthed previously are proof to this claim.
Omar Soltan, an Afghan Cultural official, told CHN that they have heard of the news as well, but more time is needed for the final approval of the belief. The possibility of the existence of some more graves should be considered as well.
After the collapse of Taliban in Afghanistan, a group of Japanese archaeologists arrived in Bamiyan one year ago to do some excavations there. Some Afghanis are also working with the Japanese archaeologists on the site.
Four years ago on March 11, two 1600-year-old Buddhist statues in the Bamiyan province of Afghanistan, were exploded into masses of dust by the Taliban.
The statues were historically damaged a few times before, once early in the thirteenth century when the Bamiyan was attacked by Genghis Khan, by Orangzeb Khan in 1689, and by Abdol Rahman Khan in 1892 all of whom made a lot of efforts to damage the statues.