China overhauls Buddhist grottoes, in fund & talent deficiency
Xinhuanet, Sept 21, 2005
ZHENGZHOU, China -- Inadequate investment and incompetent sculpture specialists may jeopardize the protection of the Longmen Grottoes, one of China's UNESCO World Heritage sites in central China's Henan Province, preservationists and local experts warned.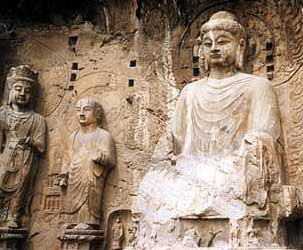 The warning came during an international project, sponsored by UNESCO and Japan, to help preserve the on-the-cliff Buddhist statues and carvings in Luoyang, a city in Henan, after many of them survived floods, wars, theft and other natural or man-made disasters during the past millennium.
Displaying outstanding Buddhist carving craftsmanship, Longmen has more than 2,300 grottoes with 110,000 Buddhist images, over 80dagobas and 2,800 inscribed tablets on cliffs with a length of one kilometer along the Yishui River, about 13 kilometers south of Luoyang, where Buddhism was first introduced to China during the Eastern Han Dynasty (25 - 220).
"Weathering caves, collapsing rocks and seeping water have posed a real, if distant, threat to Longmen Grottoes," said Li Zhengang, the superintendent of the grottoes management bureau.
With 620,000 US dollars of investment earmarked for the project's second phase, a database of damages to grottoes would be established while an experiment to select the optimum way to pour seepage-proof mortar to fill the cracks inside the grottoes will be conducted.
Visitors to the grottoes can hear water dripping down in every cave during the rainy season and sometimes it takes as long as months for the drops to stop.
"The entire preventive maintenance is expected to be complete in 2007," Li said. "To stop the damage from water in cracks is our first mission and it is very very difficult."
The Longmen Grottoes management bureau has long been plagued by the shortage of maintenance technologies, funds and professional talents. Most of its 400-plus staff are engaged in tourism services, leaving only seven maintenance professionals.
Li said the current international project was still at its experimental stage and the 1.26 million-US dollar funding providedby UNESCO only helps "to some extent."
"It takes at least hundreds of millions of yuan to just stop the seeping water alone, " Li said.
The grottoes management bureau took in about 50 million yuan (about 6.16 million US dollars) from selling tickets in 2004. But most of the revenue was used for the payrolls and daily operation and very little was spent on maintenance.
Cracks have been found in each of the 37 major grottoes in Longmen, 29 inside a single Grotto, according to a two-year investigation by a crew of experts from China Geology University, China Culture Relics Research Institute and Longmen Grottoes Academy.
Worse, many of the Buddhist statues or carvings are indistinguishable due to dust, dirt and grit while nearly half of its niches lack a Buddhist statue due to rampant theft in the past.
"Only a very few of the niche statues and their decoration still keep their original appearances," said Ma Chaolong, a technician at the grottoes protection center.
"We do hope to launch the maintenance and repair of the grottoes on a much larger scale," Ma said, "but it is a mission hard to accomplish since every restoration project needs the support of adequate funds, advanced technologies and enough professionals."
"Imagine, seven men have to look after so many sculptures, our ability just falls short of our wishes," he said.