Stupa crack: Commission summons ASI official
by Vidisha Mp, WebIndia123.com, October 2, 2005
Sanchi, Madhya Pradesh (India) -- The Madhya Pradesh State Minorities Commission has summoned ASI Superintending Archaeologist (Bhopal Circle) K K Muhammed in connection with an alleged crack in the Great Stupa at the world heritage site Sanchi in neighbouring Raisen district.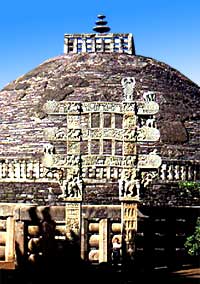 << The great Sanchi Stupa
''Religious sentiments ought not to be hurt. Sanchi is not only a centre of worship and faith for the world's Buddhist community but also an international tourist spot,'' Commission Member Indresh Gajbhiye told mediapersons here on Tuesday while inspecting the monuments. He said he would forward a report to the government after returning to Bhopal.
Admitting that such cases did occur in edifices that are thousands of years old, Mr Gajbhiye said it was certainly not a case of irregularity.
Meanwhile, Mr Muhammed assured that all the Stupas would be renovated by March, 2006.
The Indian Buddhist Religious Council had staged a demonstration over conservation of the monuments and a memorandum was submitted to Dr Gajbhiye.
''If the stupas at Sanchi, Satdhara and Sonari are not conserved, the Buddhist community will be compelled to launch an agitation in Bhopal,'' the council's state unit Chairman Suresh Jadhav said.
The ASI has drafted a Rs 5 lakh scheme for sealing the ''exposed joint'' between stones, plugging rainwater seepage and beautification of the 2,300-year-old Great Stupa.
''There is no chance whatsoever of the seepage damaging the monument. It's not a crack, only an exposed joint and that will be sealed using lime mortar. The joint was earlier repaired in 1964,'' Mr Muhammed told a media team at Sanchi on September 25.
The scheme also envisages creation of a garden at an estimated expense of Rs 2 lakh around the stupa. Bhimbhetka and Khajuraho are the other World Heritage sites in this state.
''As many as 214 weep holes aid in conveying rainwater out of the structure. The work of rendering the stupa watertight will begin soon after the monsoon and be completed by March, 2006. An additional drain is planned. The monument is cleaned only with water as a UNESCO directive forbids chemical treatment,'' the expert added.