Japanese researchers find Buddhist stone caves in Afghanistan
PakTribune, Nov 12, 2005
KABUL, Afghanistan -- A team of Japanese researchers has found Buddhist stone caves believed to date back to the eighth century about 120 kilometers west of the Bamiyan ruins in central Afghanistan, the team said.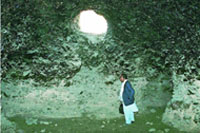 << Light streams into a recently discovered cave near Keligan, Afghanistan, believed been used by Buddhist monks in the eighth century. PHOTO COURTESY OF AKIRA INOUE/KYODO
The team, headed by Ryukoku University professor Takashi Irisawa, confirmed in late October the discovery of a group of caves built on cliffs located 1 km west of the Keligan ruins in the upper Band-e-Amir River area.
The discovery indicates the possibility that the influence of Buddhism may have extended to the area of the upper waters of the river centering around the Keligan ruins around the eighth century, and that the religion's sphere of influence in the region may have been greater than previously thought, team members said. Islam was beginning to gather momentum around that time.
"It will provide an invaluable clue in researching the sphere of Buddhism stretching westward," said Irisawa, an expert on Buddhist culture at the Kyoto-based university.
The group of caves is made up of four layers with seven rooms. The bottom layer, which is the largest, is 4 meters high, 5 meters wide and 15 meters long.
Three rooms in the bottom layer have spaces where Buddhist statues are believed to have been placed, indicating that the rooms may have been used for praying, team members said.
Irisawa said, there is "little doubt that the caves are Buddhist caves as they closely resemble the structure and architectural style of the Bamiyan stone caves."
Xuanzang, a Chinese monk known as Genjo Sanzo in Japan who visited Bamiyan in the seventh century, wrote in his book on his travels called "The Records of the Western Regions of the Great Tang Dynasty" that he had passed more than a dozen temples and some 300 monks on his way to Bamiyan.
The area of the Keligan ruins may have been where Xuanzang passed through, team members said.
A group of stone caves were also found in a village 2 km east of the Keligan ruins.
The cultural landscape and archaeological remains of the Bamiyan Valley, which was destroyed by the country's former Taliban rulers in 2001, were registered on the U.N. Educational, Scientific and Cultural Organization's World Heritage list in 2003.