Pollution, No.1 "killer" of world heritage grottoes site
Xinhuanet, Jan 16, 2006
TAIYUAN, China -- Air pollution-triggered weathering is the No.1 "killer" of the 1,500-year-old Yungang Grottoes in north China's Shanxi Province, investigation shows.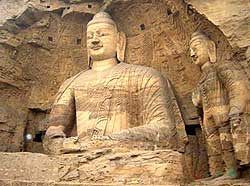 << Yungang Grottoes faces up to its No 1 enemy - Pollution
The experts of the research institute for Yungang Grottoes found excess dust and sulfur dioxide, the industrial leftover often found in the air of Shanxi, a major coal producer in China, have sped up the natural weathering for the grottoes, said Dr. Huang Jizhong, deputy director of the institute.
"The dust sticks to the Buddhist statues, eroding the statues under a complex power of sunshine, wind and rain," said Huang, who warns on Monday that the statues might lose their original look ina short time without timely countermeasures.
The Yungang Grottoes, 16 kilometers west of the city of Datong,were hewn from the cliffs in a honeycomb pattern and stretch for a kilometer from east to west.
Building of the grottoes began around 460 A.D. in the Northern Wei Dynasty. Within four decades, 1,000 grottoes and 100,000 Buddhist statues were completed together with large numbers of niches and colorful decorations.
The Yungang Grottoes have been extensively damaged over the centuries. At least 1,400 Buddhist statues were stolen and shipped out of the country.
Currently, about 51,000 statues remain in the grottoes, the largest at 17 meters high and the smallest two centimeters. The Yungang Grottoes were included in the World Heritage list in 2001.
To protect the precious cultural relics, Shanxi has 100 millionyuan (12.5 million U.S. dollars) to improve infrastructure and environment around the Yungang Grottoes by demolishing and removing the unsightly buildings from scenic areas and planting trees.