Nepal's Boudhanath Buddhist stupa to be renovated
By Thupten Shastri, Photos by Lhuboom (RFA), Phayul, January 26, 2006
Tibetan refugee community in Nepal to Renovate a Major Buddhist world heritage site in Nepal
Kathmandu, Nepal -- The historical Boudhanath Buddhist stupa in Nepal would be renovated. According to sources the renovation comes after almost a century.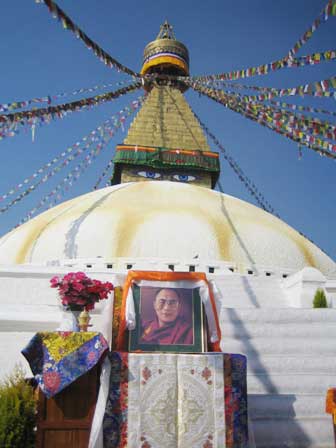 The renovation work this time is initiated by the Tibetan refugee community in Nepal and got the permission to do so from the UNESCO's office and the concerned offices of His Majesty's government of Nepal.
On 24th of this January under the supervision of H.E. Zatrul Trulshik Rinpoche, a renowned Tibetan lama in Nepal, a religious gathering was held at the Boudhanath stupa to give the renovation work the green light. At the religious gathering were Nepali and Tibetan local officials and a sizeable number of Nepali and Tibetan monks.
The president of the Boudhanath area development committee, a local office of the Ministry of culture, tourism and civil aviation of His Majesty's Government of Nepal, Krishna Bahadur Lama while responding to reporters said, "Its been almost a century since this stupa was renovated, though this stupa is put under UNESCO's world heritage site way back in 1979, but there is no fund provided from that department to maintain or renovate it, so till now the financial constrains held it to start a renovation".
He also appreciates the renovation work started by the Tibetan refugee community in Nepal. The stupa renovation committee was also setup which includes Nepali and Tibetan refugee staffs and they are to garner over 50 lakh nepali rupees through donations from the devoteesto to complete the renovation. The religious department of the exile Tibetan
government in India has already donated 15 lakh nepali rupees.
Boudhanath stupa is situated on the eastern side of capital kathmandu and according to accounts it is the largest stupa in Nepal and one of the largest stupa in the world.
While renovating stupa , the renovation committee is to pay due attention to keep the the original Nepali artistic flavour that lived through several centuries on the stupa.