'Gandhara Week 2006' in Pakistan
APP, April 1, 2006
ISLAMABAD, Pakistan -- Pakistan is home to some of the world's oldest archaeological and religious sites which can attract a large number of tourists, especially from Buddhist South East Asian states, Tourism Minister Dr GG Jamal said on Friday.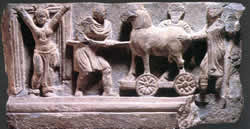 He said that the Tourism Ministry would hold 'Gandhara Week' from April 24 to boost tourism in the country. He said that the event was held last year as well and a large number of foreign tourists, including scholars, historians, archaeologists, journalists and writers, from all over the world visited Pakistan to participate in the event. He said that foolproof arrangements would be made to make the event a success. He said that the event was also an opportunity to project a positive image of the country abroad.
He said that the ministry would coordinate its efforts with the NWFP government because the tourists would visit historical sites in areas such as Swat, Takhtbai, Mardan and Peshawar. He said that Alexander of Macedonia had invaded the subcontinent in 326 BC and with him, the Greek cultural influence came to this part of the world.
He said that later, in the 2nd century BC, Buddhism was adopted as the state religion in the area that now includes Taxila, Swat and Charsaddah. He said that a unique culture was created due to the fusion of Buddhist and Greek cultures that flourished in the area for over 1,000 years and became an important centre for trade and learning.
Hundreds of Buddhist monasteries and stupas were built in towns such as Sirkap and Sirsukh in Taxila. It was from this area that a unique art of sculpture originated which is known as Gandhara art, he said. He said that Gandhara art sculptures occupied a prominent position in museums of England, France, Germany, USA, Japan, Korea, China, India and Afghanistan and in a number of private collections. However, the icon of Gandhara Art, the fasting Buddha, is in Pakistan and is on display in the Lahore Museum, he said.