Plan to develop Bodhgaya as World Buddhist Centre
PTI, April 16, 2006
GAYA, India -- With Bodhgaya proving to be the most important destination in a Buddhist tourist's itinerary, a Master Plan has been formulated to rectify its haphazard growth down the years and conserve its historical, cultural and archaeological importance.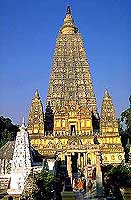 In the wake of the town earning the UNESCO-granted distinction of being a World Heritage Site, state-run urban planner HUDCO has prepared a development plan 2031 that visualises Bodhgaya as a 'world Buddhist centre', a pilgrim destination and a green and healthy place.
As per the conditions on which the World Heritage Site status has been granted to Bodhgaya, the Master Plan states that there will be no new construction within one kilometre radius of the Maha Bodhi Temple and this zone will be treated as a special area.
"Building bye-laws applicable in other parts of the city will not be applicable here," said HUDCO's Executive Director (Design and Development) RK Safaya, who is in-charge of framing the Master Plan.
He said the Master Plan also requires that all shops located outside the temple walls be shifted to an area beyond one kilometre of the over 2000-year-old monument.
"Commercial complexes are being built right outside the one kilometre radius of the temple, which have been designated as Nodes 1 and 2, where the shops near the temple will be shifted," Safaya said.
Buses bringing the tourists to visit the temple will stop at the Nodes, being built by CPWD, and buses run on green fuel will then take them inside the one-kilometre radius housing the temple.
Node 1 is set to be inaugurated by July this year, while Node 2 will be opened by December.
The Master Plan also includes building a meditation park, a large part of which has already been developed and landscaping of the Kalchakra Maidan.
Safaya said improvement in civic amenities such as water supply, drainage and sanitation, as proposed in the Master Plan, will be posed for funding under the recently-launched Jawaharlal Nehru National Urban Renewal Mission (JNNURM).
Two cities in Bihar - the state capital Patna and Bodhgaya - have been selected for development as part of the JNNURM.
Safaya said developing Bodhgaya was of great significance as it has proved to be a preferred destination in the Buddhist circuit for tourists both domestic and foreign.
"Tourists prefer to either start their journey from Bodhgaya or culminate their trip here, either way making it an important destination," he said.