Restoring books an age-old problem
China Daily, April 17, 2006
BEIJING, China -- Zhang Ping was engrossed in fixing a crack in a 10th-century Buddhist manuscript recently, using special paper, paste and, most of all, his patience.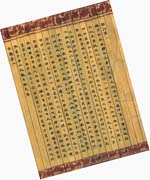 Looking up from his work, the usually-calm National Library of China (NLC) ancient-book restorer looked somewhat anxious.
"We are still halfway through repairing the dilapidated scrolls from the Dunhuang Grottoes in Northwest China, which would stretch 10,000 metres if placed end to end. We need another six years to finish the job."
Zhang's experience epitomizes how China, which has a large collection of ancient books, is struggling to preserve its rare library materials endangered by paper decay and inadequate storage conditions as well as human and funding resources.
The Ministry of Culture has said that it would launch an unprecedented project this year to extend the life of paper-based materials as long as possible.
Apart from the Buddhist scrolls, half of the 1 million rare books and manuscripts at the NLC the largest library in Asia are in poor condition. Some had sustained "scars" from fire, water or worms before they entered the library; the paper of others had become increasingly brittle, librarian Zhang Zhiqing said.
"We are agonizing over two things: how to slow down the decomposition of the rare collections as the acid content of the paper increases and how to get sufficient qualified 'repairers' to restore the massive numbers of books and other library materials," Zhang, director of the NLC's Rare Books and Special Collections Department, told China Daily.
The library is home to nearly half of the rare ancient books on the Chinese mainland, with its earliest collection dated AD 417.
During the past half-century, however, it has repaired and restored only about 60,000 of the most precious and endangered volumes, or 12 per cent of the total that need utmost attention, Zhang Zhiqing said.
"Compared with dilapidation by outside forces, the ageing of paper used for written or printed materials poses an even greater threat to these ancient books," he said.
The higher the acid content, the more susceptible the paper is to becoming brittle and yellow, experts said.
The NLC periodically samples the paper in ancient volumes to determine its degree of acidity or alkalinity. The pH scale ranges from zero (most acidic) to 14 (most alkaline), with 7 being neutral.
In the library's most recent test, the paper averaged 6.6, with many scoring below 6, compared with 7.5 in the 1960s, Zhang Zhiqing said.
Chen Li, deputy chief of the library, said ever-worsening air pollution had partly caused the increased acidity level.
"If this rate of deterioration continues, most of the ancient books will post a pH below 5 within a century," Chen said.
"For a book with such a low pH value, its paper will crumble with any handling, and its lifespan will not exceed 200 years."
To retard the embrittlement, the library will have to use a deacidification process commonly used in developed countries, Zhang Zhiqing said.
Coupled with the urgency of stopping the harmful effects of acid on the paper, the restoration and protection project is also hampered by a dire shortage of skilled staff, he said.
Aside from veteran repairer Zhang Ping, the NLC has only 11 people working on ancient book restoration, and their average age is over 45.
The library boasts of facilities that strictly control the levels of light, heat and humidity. Some of the book storage locations have air-circulation systems that filter out damaging pollutants, Zhang Zhiqing said.
But that is not the case for collectors of rare ancient books in many other parts of the country.
In October and November of last year, for example, China reported at least three accidents in Beijing, and Fujian and Gansu provinces, in which typhoons or flooding damaged ancient books and other museum materials.
In the worst case, which happened on November 15, more than 20,000 antique books, including a 300-year-old woodcut Buddhist scripture, became soaked in hot water that leaked from a cracked heating pipe and flooded the basement archive of the Cultural Palace of Nationalities in Beijing.
Zhang Zhiqing also said that China anually allocates 300 million yuan (US$36.6 million) to protect cultural relics including ancient books, but the amount earmarked to protect books is only a fraction of that.
The country's public libraries have 30 million ancient books, said Zhang Xiaoping, a division director of the social culture and library affairs department under the Ministry of Culture, but one-third of them are dilapidated to some extent.
"The statistics are just a very, very rough estimate," Zhang Zhiqing said. "There are no accurate statistics available when it comes to ancient books in China."
Two national censuses have been conducted on cultural relics but none on ancient books, he said.
To reverse the situation, the government is preparing to launch a national protection plan for ancient books this year, with the Ministry of Finance allocating 5 million yuan (US$625,000) in start-up funding, he said.
The first step is to take a census to get a clear picture of the ancient book stock in public libraries, the director said.
The outcome of the census, including the exact number and storage conditions of the volumes and how valuable they are, will become an important reference for local and national decision-makers, he said.
The second step is to train more professional staff in ancient book restoration, the official said.
The country currently has about 100 professionals in the trade, most of whom learned skills from apprenticeships.
To ensure a regular supply of qualified "repairers," the ministry is considering setting up ancient book restoration and protection majors at some universities, he said.
Currently, only Mochou Technical Secondary School in Nanjing, capital of East China's Jiangsu Province, has such a major. It plans to recruit students nationwide starting from this year, schoolmaster Pan Guping said.
Also included in the ministry's plan is building a national multi-disciplinary laboratory for the protection of ancient books, Zhang Zhiqing said.
Chen, the library's vice-curator, suggested that the national lab be established in his library.
"The principle of the profession is to restore a book to its original form," Chen said. "We badly need a lab to work out and test technology for the restoration process.
"We must ensure that our limited resources are used on the things that are most needed. If our technology is not good enough, we may choose to 'seal' and store the books to ensure no more dilapidation will be inflicted, rather than rush to restore them."
Those involved in restoration are encouraged that the library's protection work on the Dunhuang manuscripts has already won international acclaim.
The State allocated funds to make heavy-duty cabinets to preserve the scrolls, and an international project that the NLC launched in 1993 in co-operation with libraries and museums in the United Kingdom, India, Egypt, Russia and France is still benefiting from the research and protection of the Dunhuang scrolls, Chen said.
Veteran Dunhuang manuscript repairer Zhang Ping and his colleagues are still working to restore the damaged scrolls to their satisfaction.
"It is purely manual work that you cannot possibly hasten," Zhang Ping said. "But such repairing provides the foundation for further research."