Japanese-Afghan team tries to catalog Buddhist ruins
The Japan Times, April 27, 2006
KABUL, Afghanistan -- A joint Japan-Afghanistan team that is trying to preserve Afghanistan's rich cultural heritage has confirmed the existence of Buddhist ruins near Kabul.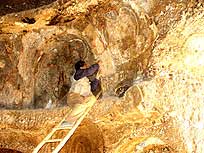 The joint study was undertaken by an Afghan archaeological research institute and Japan's National Research Institute for Cultural Properties in an area near Lake Koul-e Heshmatkhan in southern Kabul.
They found the foundation of a Buddhist temple that was used to house the Buddha's ashes. It is located under a police station south of the lake.
The excavation of the ruins of Tappe-e Narenj Buddhism located on the western side of the lake is under way. Experts believe the remains of a fifth-century Buddhist temple are scattered around the lake.
The Chinese Buddhist novel "Journey to the West" (1590s) cites the area as a place that the Buddhist monk Xuan Zang (602-664) passed through on the way home from India in the seventh century. He chronicled the area's geography and culture in an account of his travels in the Great Tang Dynasty Record of the Western Region.
Kazuya Yamauchi, director of the Japanese institute's regional environmental research office and a participant in the survey, said a detailed examination should prove that Xuan Zang took the path at the foot of the mountains in the southern section of Kabul.
This year, a French survey team is expected to look for the capital Bactria, which was the ancient Greek name of the country between the Hindu Kush and the Amu Darva. Its capital, Bactra, (now Balkh), was located in what is now Afghanistan and southern Tajikistan. The Bactrian kingdom lasted from 250 to 125 B.C.
The Tillya Tepe (Golden Hill) "Bactrian Gold" hoard, a collection of thousands of ornaments, found in the northern Afghan Province of Jawzjan in the late 1970s, was put on display at President Hamid Kharzai office in February.
The collection was missing during the country's prolonged civil war and the Taliban's Buddhist purges.