World largest Buddha statue to receive health checkup
People's Daily Online, June 12, 2006
Sichuan Province, China -- The world's largest Buddha statue, situated in southwest China, will receive a week-long checkup via geological radar.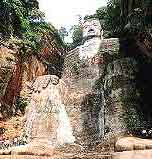 Carved into a cliff in Leshan, Sichuan Province, overlooking the point where three main rivers converge, the 71-metre (234-feet) tall Buddha statue is more than 1,200 years old.
"It is hard to say whether there is any damage to the core of the Buddha," said Chen Bo, director of Leshan Giant Buddha Management Committee.
He said usual examination processes can only examine the surface of the Buddha statue and to some extent will cause harm, while geological radar can examine deep inside, said Chen, adding it is the first time radar has been used on a large stone cultural relic in China.
However, the complicated exterior structure of the Buddha statue is causing difficulties. "The geological radar can only make a precise detection when in full contact with the surface of the object, while most parts of the Buddha statue have a spherical surface," said Chen.
"After discussions with experts on cultural relics, researchers from the Chinese Academy of Science and technicians, we now have a plan, which can ensure the safety of Buddha," the director said.
According to Chen, the result of the scan will provide a scientific foundation for the future treatment of the statue.
Though repair works have been carried out on the Buddha statue several times, it has always been tough to protect it, experts said.
The largest repair works on the Buddha statue began in 2001 and are yet to be finished. The whole project is to cost 250 million yuan (about 30 million U.S. dollars), including two million U.S. dollars in World Bank loans.
The giant Buddha statue in Leshan was put on the World Cultural Heritage list of the United Nations Educational, Scientific and Cultural Organization (UNESCO) in 1996.