Eastern art finds Indian roots
by Kunal Diwan, The Hindu, Aug 23, 2007
Indian influence evident in religion and art of China, Japan
NEW DELHI, India -- Kebabs at Kashgar, breathing trouble in Tibet and the surreal tranquillity of hilltop monasteries may well sound like the plot of Dan Brown's next quasi-religious bestseller. But for an art historian from Delhi it was a perfect opportunity to observe and document some of the finest Buddhist murals in existence.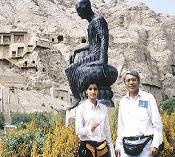 << Digging cultures: Art historian and filmmaker Benoy K Behl and Assistant Director Pooja Kaul in front of Kumarajiva statue at Kizil Caves in China
Tracing a journey that spanned nearly 14,000 km across the breathtakingly contradictory landscape of China, seasoned art connoisseur Benoy K. Behl spent nearly two months this summer documenting the evolution of the Buddhist mural art form in China and Tibet.
At every juncture on the Northern Silk Route traversed by Mr. Behl and his associates, assistant director Pooja Kaul and camera assistant Dalip, the interminable signs that link the spread of Buddhism to the art that it inspired were apparent.
"The Buddhist mural paintings are one of the largest body of paintings in the world. The art embodies a vision of compassion which permeates all of early Buddhist, Jain and Hindu art," says Mr. Behl whose academic sojourn took him to 34 cultural sites, some of which his team were the first Indians to ever set their feet on.
The sites visited by the team include the Kizil caves, the White House Pagoda, the Samye monastery and the famous Potala Palace in Tibet.
"Whoever studies the art of China and Japan, at whatever point he begins, starts on a long road which leads him ultimately to Ajanta." said Lawrence Binyon, British Museum Director in 1930.
Consequently it was one of Mr. Behl's endeavours to rediscover the great tradition of Asiatic art and culture that knew no national boundaries and originated from India. "The paintings in the early monasteries of Tibet reflect an immense influence of Indian art and some of them are directly painted by Kashmiri artists," says Mr. Behl.
Braving a rarefied atmosphere at altitudes of over 15,000 on occasions, the team visited most of the early monasteries of central and western Tibet.
"The most fascinating region is the Guge region in Western Tibet. It is a cold desert wasteland with huge clay mountains. It is fairly contiguous with Kinnaur and Ladakh. The 108 monasteries in this region established Buddhism forever in the trans-Himalayan region," he informs.
Acknowledging the appreciation that the Government of China has displayed for his effort, Mr. Behl plans to return to this hauntingly desolate tract of land next month to continue his research.