China's ancient Buddhist frescoes fading into history
AFP, Nov 28, 2007
MOGAO CAVES, China -- In the cool gloom of an arching sandstone cavern in northwestern China, medics wielding syringes work to save a patient in critical condition.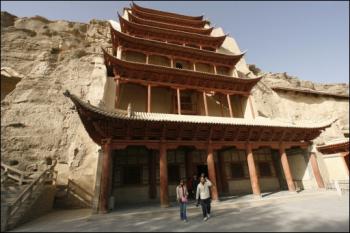 << Visitors walk outside the Mogao Grottoes Buddhist mural complex
Under the light of small lamps, technicians painstakingly apply a liquid bonding agent to stabilise a crumbling 1,000-year-old fresco, part of the striking Mogao Grottoes Buddhist mural complex in remote Gansu province.
Among the world's greatest collections of Buddhist art, the cave frescoes date back 1,650 years, created as eternal tributes to Buddha.
But today they fading away from age, tourist pressures and climate change.
"Look at this part. It's just crumbling, like bread," said Fan Zaixuan, who directs restoration work, his flashlight illuminating a scene from the Buddha's life.
"It's in serious trouble but we'll do what we can."
A race is on to arrest the deterioration of the UN World Heritage site, which occupies 492 different cave temples along a 1.6-kilometre (one-mile) long cliff face near the ancient Silk Road oasis town of Dunhuang.
That decline has accelerated in recent years due in large part to desertification caused by climate change, said Wang Xudong, head of the Dunhuang Academy, the state-run institution that studies and maintains the grottoes.
More-frequent sandstorms from the nearby Kumtag desert are upsetting the fragile environmental balance inside the caves.
"Our biggest challenge is protecting the interior environment of the caves, especially from sandstorms, which are the biggest risk here," he said.
But it's a complex and painstaking task.
"Each cave has its own unique mineral, temperature, and moisture situation. We have to treat each one differently. We are learning every day," Wang said.
From the fourth century AD, monks seeking ascetic retreats in the caves began turning them into places of worship.
Most centre on statues of the Buddha, with one towering 34 metres (111 feet) high.
Situated on the Silk Road, the ancient east-west conduit for trade, religion and culture, the monks also amassed hoards of precious Buddhist texts.
But the frescoes -- watercolours applied to a layer of wet plaster or clay -- are Mogao's highlight.
In turquoise greens and pastel oranges, they depict minutely detailed scenes from the Buddha's life, celebrate Buddhist kings of the past, and portray Buddhist deities, and were added to over a period of 1,000 years.
They cover a staggering 45,000 square metres (484,000 square feet) of wall space, where Indian and central Asian styles of clothing, dance and facial types mix with Chinese flavours, reflecting the Silk Road's cosmopolitanism.
"All Silk Road traffic passed through Dunhuang, so a rich cultural and artistic heritage coalesced here," Wang said.
Since their rediscovery about 100 years ago, the caves have suffered looting, vandalism and neglect.
But today they risk being loved to death.
Daily visitor numbers often spike to more than 7,000, as increasing numbers of Chinese can afford pleasure travel. A figure of about 2,000 visitors a day is considered ideal.
"With a lot of people in the caves, carbon dioxide levels go up, the temperature goes up, humidity goes up. It's terrible for the frescoes, and returning to normal takes a very long time," said Wang.
Closing the grottoes is not an option as local authorities chase tourism revenue, so protective measures are taken.
Visitors are broken into small groups and cameras are banned since flash exposures accelerate fading.
Actual preservation work is more delicate and less certain.
The composition of chemical agents used to shore up crumbling sections must be recalibrated for each cave's environment, and even adjusted for different sides of a cave.
Particularly at-risk sections undergo a painstaking process in which destabilising salt is chemically extracted from minerals in the walls.
"It's not high-tech work, but finding people with the right skills in China is hard," said Wang.
Fan sees his job as sustaining the frescoes while a parallel effort to digitally photograph them for posterity continues.
"There may be a day when they all disappear or crumble away," he said.
"But our mission is to extend their life as long as we can."