Thirty-six million dollar cost of preserving unique Buddhist grotto art
Macau Daily Times/Xinhua, February 14, 2008
Gansu, China -- China has approved a 36-million-dollar protection scheme for the preservation of unique Buddhist grotto art in the nation's north-west, state media said yesterday.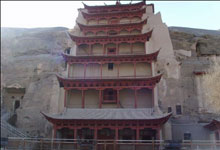 << China has approved a 36-million-U.S. dollar protection scheme for the Dunhuang Mogao Grottoes, a listed World Heritage Site in the northwest Gansu Province. (File Photo)
The money is meant to prevent the already severely endangered frescoes and statues of the Mogao Grottoes in Gansu province from deteriorating further, the Xinhua news agency reported.
The frescoes -- watercolours applied to a layer of wet plaster or clay -- cover 45,000 square metres of wall space at the United Nations World Heritage site.
The money will be spent on preventing erosion and also on building a digital display hall that can reduce the number of visitors inside the grottoes, according to Xinhua.
Around 70 percent of the investment will come from the central government and the rest from the province.
Reducing visitor numbers is crucial because the vapour and carbon dioxide people exhale contribute to erosion, the agency said.
Among the world's greatest collections of Buddhist art, the cave frescoes date back 1,650 years and were created as eternal tributes to Buddha near the Silk Road, an ancient channel of commerce and religious exchange.
The plan, approved by the National Development and Reform Commission, includes the construction of a digital display hall that can hold 800 visitors and facilities for consolidation, erosion prevention, security and visitor services, the Gansu Provincial Cultural Heritage Bureau said.
The 1,600-year-old Mogao Grottoes boast more than 2,000 colored sculptures and 45,000 square meters of frescoes. The site received World Heritage designation in 1987.
"The completion of the service facilities is expected to help reduce the stay time of visitors inside the grottoes," said Wang Xudong, vice president of the Dunhuang Academy, the sole institute authorized to protect, research and manage the Dunhuang grotto treasures.
Vapor and carbon dioxide exhaled by visitors can erode the frescoes and sculptures, according to experts.
The number of domestic and overseas tourists to the Dunhuang grottoes has reached 500,000 annually and continues to rise.
"The small grottoes are often packed with visitors, which poses a severe threat to the preservation of the frescoes and sculptures inside," Wang said.