1,000-year-old image of temple may be that of Kota Gelanggi
BY TEOH TEIK HOONG AND AUDREY EDWARDS, The Star, Feb 6, 2005
PETALING JAYA, Malaysia -- The lost city of Kota Gelanggi in Johor may be the unidentified temple shown in a 1000-year-old illustration of an unknown place in the region, a Cambridge University expert said.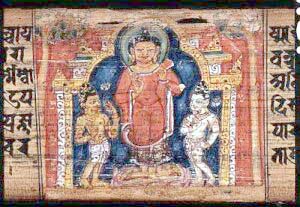 << RELIGIOUS PORTRAYAL: Dipamkara making a gesture of reassurance and holding a fold of his robe at his shoulder while two attendants make the gesture of explanation and hold a blue lotus in an illustration from the manuscript kept at Cambridge University.
R.C. Jamieson, Keeper of Sanskrit Manuscripts at the University of Cambridge, Britain, said the origin of the illustration which showed a former Buddha, Dipamkara, making a gesture of reassurance and holding a fold of his robe at his shoulder in a temple in Java had yet to be verified.
?However, we must bear in mind that Java then might not have been just the present island alone. At the time of The Perfection of Wisdom in 8,000 Lines (Astasahasrikaprajnaparamita) manuscript, the term encompassed Sumatra and part of the Malay peninsula.
?The manuscript states that the image was taken around 1015AD,? he said in an e-mail interview from London.
The palm-leaf manuscript got to Cambridge from Nepal and the main text was in Sanskrit, Jamieson added.
The illustration also shows two attendants who are bodhisattvas (deities) making the gesture of explanation and holding a blue lotus, among other items, while standing in a temple between some trees.
Jamieson said whether or not the illustration was that of the lost city of Kota Gelanggi, it was worth a detailed investigation.
He said: ?If they were the one and the same, it would be a fabulous discovery. If they are not, the work is still valuable and the style of the illustrated building and remains could still be very similar.?
He expressed his willingness to assist in any expedition to verify the lost city initiated by the Museum and Antiquities Department.
Jamieson said the history of such places was important in the history of religion, trade, and international contact at the time and in many other spheres.
?I feel sure something has been found and the only sensible thing is to examine it in a scholarly fashion,? he added.
A website located at www.edlis.org/pow depicts many illustrations from the book.