Centuries-Old Votive Buddhist stupa discovered at Gujarat
By Japan K Pathak, DeshGujarat, February 10, 2009
Ahmedabad, India -- Gujarat State Archaeology Directorate under the Sports, Youth & Cultural Activities Department had been conducting scientific excavation at Vadnagar since 2005.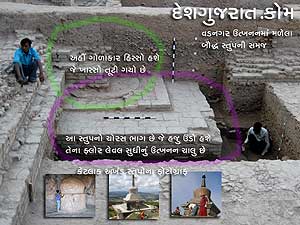 << Green circle shows a part where presence of semi circular top part of stupa structure was, Violate circle shows square part. Inset photos show glimpses of how complete stupas look.
The excavation has brought to light many significant antiquarian remains since then. In season 2007-08 a Buddhist monastery was uncovered with most of the characteristic features of a monastic establishment meant for the monks.
The current excavation, started in the last week of December 2008, has brought to light a votive stupa near the north eastern corner of the monastery.
The architecture reveals that the stupa was constructed in a terraced style i.e., square platforms in diminishing dimension raised one over another and the topmost surmounted by a semi circular structure known as 'anda'. Till date, three such terraces has been noticed. In the centre of the top most terrace rests the circular base of stupa which is made of molded bricks.
The presence of stupa and monastery has reconfirmed that during the early centuries of Christian era, there had been a strong presence of Buddhists in Vadnagar. These findings suggest that further excavation may bring to light a large complex with many such votive stupa. These findings also prove the authenticity of Hiuen Tsiang's records who visited Vadnagar about 640 AD.
Stupa is one of the significant architectures of Buddhists. It is usually a sepulchral structure which contains relics of the great personalities. Votive stupas of "uddesic stupa" were generally constructed by the devotees to pay their gratitude to the holy Buddha after fulfillment of their desires.
During the current session the site has been visited by internationally renowned scholar Prof. Robin Conningham, Pro Vice Chancellor of Durham University, U.K who is engaged in Anuradhapur Buddhist Project in Sri Lanka since last 15 years, Dr. R.S. Fonia, Director(Excavation & Exploration), ASI, and Dr. B.R. Mani, Jt Director General of Archaeological Survey of India and one of the leading Buddhist scholars of India and several other archaeologists. All the archaeologists and scholars have attested that the finding of Buddhist monastery at Vadnagar is a significant discovery in western India in the recent time. Further work is in progress.
The idea of excavation at the site was mooted none other than the Chief Minister of Gujarat Shri Narendra Modi himself. The excavation is being conducted under the direction of Shri Y.S. Rawat, Director of Gujarat State Archaeology.