Japanese research team to help restore Indian cave art
The Yomiuri Shimbun, Feb 12, 2009
Ajanta, India -- A research group from the Tokyo-based National Research Institute for Cultural Properties will be dispatched Thursday to help restore and preserve Buddhist wall paintings in the Ajanta caves in western India.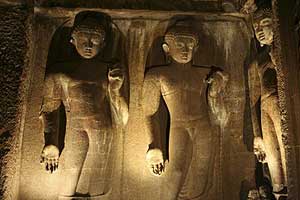 The stone caves are Buddhist monasteries built into the India Deccan Plateau. They are believed to have been constructed in two stages, with the first phase occurring during the first century B.C. to the second century, and the second phase during the fifth and sixth centuries. Precise dates are still unknown.
The caves were discovered in 1819 by a British officer hunting for tigers in the area, and in 1983, UNESCO recognized the caves as a World Heritage Site.
This will be the first time a Japanese team has taken part in preservation and restoration activities at a World Heritage Site in India. The institute was previously involved in restoration projects in Bamiyan, Afghanistan, and Dunhuang, China.
There are hopes the upcoming research will find a common link among Asian wall paintings, including the paintings in Horyuji temple in Nara Prefecture.
The walls and ceiling of the Ajanta caves depict Buddha's life using a tempera painting technique. The caves are also home to India's largest Buddha statue.
The team will conduct research in two of the area's 30 caves over a period of two years.
The wall paintings were restored in 1920 by an Italian restorer who applied varnish to the walls of the cave. But problems subsequently emerged: The varnish is prone to change color and there also were fears that moisture in the walls would be unable to evaporate.
Further, following the decline of Buddhism in the region, the stone caves were left unattended for a long time and were subsequently inhabited by bats. Excrement and associated bacteria left by the bats have compounded problems.
The research team will attempt to gauge the condition of the paintings by using color-based analysis. The team also will try to determine the best way to remove the varnish from the walls.
In the autumn, the team is expected to measure the dimensions of the caves, as no accurate data presently exist.
The survey will be led by cultural history specialist Kosaku Maeda, professor emeritus of Wako University.
"We'll be able to look into the commonly held belief that the Horyuji temple wall paintings--which have been referred to as being in the international style--were influenced by the Ajanta wall paintings" Maeda said.