Malaysia's Hindu-Buddhist civilisation spread over 1,000 sq km
Sify News, July 4, 2010
Kedah, Malaysia -- Excavation at a Hindu-Buddhist civilisation site in Malaysia that dates back to the fifth century indicates that it was spread over 1,000 sq km and not 400 sq km as thought earlier.
A team of Malaysian archaeologists discovered ancient furnaces or iron smelting in Jiniang, Kedah, 30 km from the Bujang Valley site near Merbok, Kedah state.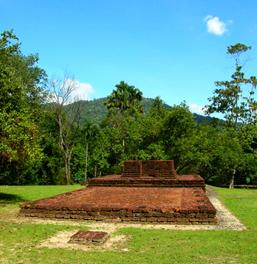 'This means the Bujang Valley civilisation area encompassed about 1,000 sq km - three times the size of Penang island - and not 400 sq km as thought before,' said Mokhtar Saidin, who led a team of researchers from Universiti Sains Malaysia (USM).
This will be discussed at a three-day international conference on 'Bujang Valley and Early Civilisations' in South-East Asia beginning here Monday.
Saidin said 28 academic papers would be presented by archaeologists from South-East Asian countries as well as from China, India, the US and Britain.
The Bujang Valley or Lembah Bujang is a sprawling historical complex situated near Merbok, Kedah, between Gunung Jerai in the north and Muda River in the south. It is the richest archaeological area in Malaysia.
The name itself is roughly translated into 'Dragon Valley'. The area consists of ruins that may be more than 1,500 years old.
More than 50 ancient tomb temples, called candi, have also been unearthed.
Saidin said the team, which conducted excavations from February 2009 to May this year, found complexes such as ritual sites and industries of early civilisation in Bujang Valley that was based on the iron industry.
'We excavated 10 sites along Sungai Batu in Bujang Valley and found evidence that furnaces were used by the ancient civilisation,' The Star quoted him as saying.
After dating samples of iron smelting sites, he said an early civilisation which was probably based on animism existed there between the first and fifth century.
But from the fifth century to the 14th century, the area was a thriving Hindu and Buddhist civilisation, he added.