Coins, Buddha head, stucco pieces discovered at Taxila
Pakistan Times National News Desk, March 23, 2005
WAH, Pakistan -- New discoveries including three coins of Sythian and late Kushan period era a Buddha head, a large number of stucco sculptures, fragments of Buddha, Bodhisattvas and Greek architectural pieces from unexcavated stupa and monastery near world renowned Buddhist university Julian would open new chapters of the Buddhist history in Taxila valley civilisation, Sources in the department of Archaeology and Museum at Taxila Sub Regional Office said on Tuesday.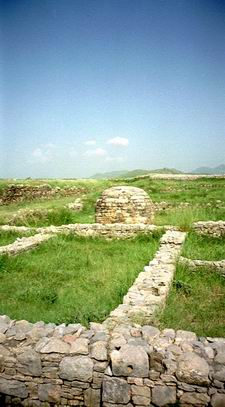 << Remains at Taxila
Recently a South Korean team of archaeologists has made this remarkable discovery during excavations near the ancient site of Julian dated back to first century AD commonly known as ancient Taxila Buddhist University situated about seven kilometers north east of Taxila Museum.
The sources said that a thirteen-member team of South Korean archaeologists under Pak-Korea collaboration for archaeological conservation headed by renowned archaeologists and researcher Professor Moon Miyagdeh along with the South Korean conservation expert Professor Ahan has started excavations from February-3 at the unexcavated but in a good condition site of ancient monastery and stupa situated three hundred meters in the east of the world famous site of Julian generally knows ancient Buddhist university.
Excavations
During the about one month excavations at the site the Korean archaeologists has discovered a large number fragments of stucco sculptures of Buddha, stucco sculptures fragments of Buddha, Bodhisattvas and Greek architectural, one piece of Buddha head belongs to fourth century AD and other are broken fragments has discovered in these recent excavations.
The archaeologists also discovered three coins made of copper in which one related to Scythain period belongs to early first century AD, in which a king on horse back on other side the Greek god Zeus Nikephoris is depicting, while the other coin is belongs to late Kushan period dated back to fourth century AD.
According to the archaeologists the newly discovered Buddha head belongs to fourth century AD made of stucco. The sources said that the recent excavations at Taxila have pushed back the history of the ancient settlement by another centuries as some of the rare antiquities are among these discoveries.
He added that the site from where these antiquities are discovered belongs to Seytho- Parthian period in early first century AD and this period belongs to before Kushan rule in Taxila. This site is located about three hundred meters of the east of Julian monastery and stupa.