Railway link to Mogao Grottoes
Xinhua, March 28, 2005
Gansu Province, China -- Travelers to the world-famous Buddhist Mogao Grottoes in Dunhuang, Gansu Province, may reach it by train at the end of this year.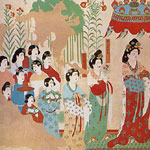 The mogao Grottoes are popularly known as the Thousand Buddha Caves and cover about 1,600 meters on a hillside. The frescoes are painted on both the ceilings and walls of numerous caves. They are reputed to be the best preserved pieces of Buddhist art in the world.
The mogao Grottoes consist of about 500 man-made caves that have survived 1,600 years of volatile climate change and other damage. The site is 25 kilometers to the southeast of 2,000-year-old Dunhuang town, once a vital caravan stop on the ancient Silk Road trade route that linked China with Central Asia. Tourists currently reach the caves by plane or bus. The 160-kilometer-long railway will cost more than 600 million yuan (US$72.3 million).
"The project will finish in October and the railway is expected to open to passengers by the end of this year," said Gao Zhiqiang, deputy director of the provincial office in charge of railway construction.
The project, however, has met opposition from cave experts, who have repeatedly warned of the harm a railroad and the subsequent increase in visitors may cause.
"Tourism dollars can fund heritage preservation, but over-exploitation may damage a unique site and threaten local culture," said one expert who declined to be named.
The mogao Grottoes was listed as a World Heritage Site by the United Nations Educational, Scientific and Cultural Organization in 1987.
Tourists have to make a reservation to see the frescoes. The expert said the local government should also make new regulations such as prohibiting photography.