Why Bhutan is a happy nation
AFP, June 8, 2007
Thimphu, Bhutan -- An impressive 68 percent of people polled in the Himalayan kingdom of Bhutan are happy, a survey showed yesterday, and said a focus on family and health, not work, made them so.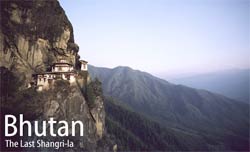 The poll conducted by the Centre for Bhutan Studies and funded by the Japan Foundation said Bhutanese gave more credence to health and a stable family, than good governance or work when it comes to measuring happiness.
"The main objective of the study was to find out what determined people's well-being, level of happiness and satisfaction with life," Tashi Choden, who helped compile the survey, told AFP.
Bhutan, a majority Buddhist mountainous nation of around 700,000, is ranked near the bottom of the world's development scale so the landlocked country invented a unique way to measure progress by citing gross national happiness over gross domestic product.
The policy was decreed by former king Jigme Singye Wangchuck in the 1990s in response to low economic growth in an attempt to reflect quality of life over money.
"The former king was more interested to know if the kids were going to school and maintaining good health, whether the forest cover was well protected, or if expectant mothers were getting adequate healthcare facilities," explained Gopilal Acharya, editor of the Bhutan Times, the nation's first independent weekly newspaper.
Only 11 per cent of those surveyed felt good governance and a welfare system were required for measuring happiness.
Note: In the recently released Global Peace Index, Bhutan was ranked 19 amongst 121 countries in the world. It ranked first in Asia. See here: http://www.buddhistchannel.tv/index.php?id=70,4228,0,0,1,0