The role of Buddhist scholars in promoting Bhutan's Gross National Happiness
By Rinzin Wangchuk, Kuensel Online, Oct 16, 2008
Timphu, Bhutan -- One hundred and eleven monks and nuns of the Gangteng Buddhist institute were awarded certificates of three levels of qualification by the Prime Minister, Lyonchhen Jigmi Y Thinley, on October 11.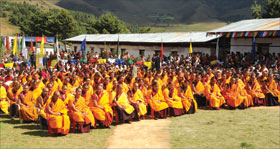 35 scholars obtained degrees in Master of Arts (Achariya) in Buddhist philosophy, 33 got Bachelor of Arts (Shastri) in Buddhist philosophy, while 43 students, including 11 nuns, completed Madhiyamika course (diploma) on language and Buddhist philosophy. Nuns, who completed tertiary education (class XII) from Pema Shedrup Choki Gatshel nunnery in Tang, Bumthang were the first batch.
Awarding the certificates, the prime minister said that, aside from having acquired knowledge and wisdom about Buddhism, they would play an important role in promoting Bhutan's philosophy of Gross National Happiness.
"As you know GNH is a philosophy that guides Bhutan's development. It is a holistic approach, it is a sustainable approach, it is based on compassion and the wisdom of the Buddha dharma," said the Lyonchhen.
He said that, in order to be able to achieve happiness in life, one needed to be guided by wisdom. "In fact, the achievement of gross national happiness in Bhutan must result from the achievement of enlightenment. It is an enlightened society that will find happiness."
"We believe that the conventional way of development, the conventional model for development based on consumerist ethics, based on materialism, is not sustainable and will not yield happiness. The architecture of society as we know it today is founded on greed and envy. We need to spread throughout this world a better and more sustainable approach to development, true human growth and true human civilization."
Scholars, who've obtained Master degrees, will be sent to different Shedras around the country as teachers or khenpos. Others will continue higher studies.
"It doesn't mean that they have completed their studies," said Gangteng Trulku, who added that, to become a khenpo or scholar, one should complete his three year's meditation and other practices after completing a nine-year course at the institute.
Started in 1986 by the present Gangteng Trulku, with the support of the royal government, the shedra, known as Dhonga Thoesam Rabgayling, offers a nine-year course in Buddhist studies. However, monks or nuns have to complete tertiary education before they join the institute.
On the same day, Lyonchhen also inaugurated a weeklong exhibition of various local art, craft, culture, environment and Buddhism, which was organised by Gangteng Trulku as a part of the one-week festival to celebrate the consecration of the Gangteng lhakhang.