Economists Appraise Bhutan's Happiness Model
by Don Duncan, The San Francisco Chronicle, Dec 7, 2008
Based on Buddhist principles, the Himalayan Kingdom of Bhutan has implemented a unique economic policy called Gross National Happiness
Thimphu, Bhutan -- In the thick of a global financial crisis, many economists have come to this Himalayan kingdom to study a unique economic policy called Gross National Happiness, based on Buddhist principles.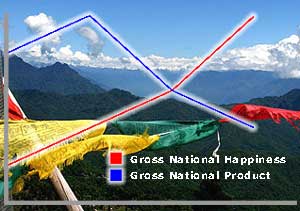 When considering economic development, policymakers here take into account respect for all living things, nature, community participation and the need for balance between work, sleep and reflection or meditation.
"Happiness is very serious business," Bhutan Prime Minister Jigme Thinley said. "The dogma of limitless productivity and growth in a finite world is unsustainable and unfair for future generations."
From his ornate pedestal at the 4th annual Gross National Happiness conference last week, Thinley said it is common knowledge in Buddhism that every creation requires destruction.
"New thoughts and ideas emerge from chaos and devastation," he said. "If Gross National Happiness (is to) be the new order, the old (order) certainly seems to be giving way."
Gross National Happiness, or GNH, evolved over centuries in Bhutan but was launched formally in 1972 as an economic alternative by then-King Jigme Singye Wangchuck.
At the time, he was criticized for overseeing the stagnation of one of the world's smallest economies based mainly on agriculture and forestry.
As a result, the former king shifted focus of development from productivity to human well-being in four areas: sustainable economic development, preservation and promotion of cultural values, conservation of the environment, and good governance.
Since then, government policy in Bhutan has been guided by GNH principles in a succession of five-year plans, according to Thinley.
The term "happiness," some observers say, often causes Western economists and development experts to not take Bhutan's economic approach seriously. And when they do, they tend to use such terms as "human development" or "pluralistic growth."
"People are shy to use the word happiness," said Dasho Karma Ura, president of the Center for Bhutan Studies in the capital Thimphu, which launched the informational Web site grossnationalhappiness.com last week. "Defining happiness is not what is important. What is important is providing the conditions through which people can achieve happiness as they understand it."
Application Limited
Some critics point out that GNH developed under an autocracy and is unworkable in a country with a large population - Bhutan has only 642,000 inhabitants.
"There is much of Gross National Happiness that is just not implementable outside of Bhutan right now," said Nick Marks of the New Economics Foundation, a London-based think tank.
As an example, Marks says GNH refuses to take advantage of its potential lumber industry. Sixty-five percent of its territory is forested. "Bhutan doesn't want to lose what it has," he said.
To be sure, the Bhutanese government has not always considered everyone's happiness.
The preservation-of-culture tenet has been used by the majority Drukpa peoples to stop illegal immigration from neighboring Nepalese, who have a different language, dress and religion. In the early 1990s, more than 100,000 Nepalese were forced or coerced out of Bhutan. Those who stayed saw their rights heavily curtailed.
Thinley says such inequalities are ending thanks to the country's new-found democracy. In March, democratic elections for seats to the country's first parliament were held and the nation's first Constitution was ratified in July.
By the end of the current five-year plan, "there will be absolute parity in terms of distribution and the provision of all kinds of services," Thinley said.
Idea Is Spreading
Still, Bhutan's way of doing business is gaining international traction.
Late last month, the narrow, hilly streets of Thimphu filled with foreign economists, educators and public policy consultants, who attended the Gross National Happiness Conference.
"We can no longer approach the 21st century with the instruments of the 20th century," said Nicholas Rosellini, head of the U.N. mission in Bhutan.
Indeed, GNH guidelines are being adopted in Brazil, India and Haiti.
But the most extensive programs are occurring in Canada, Australia, the United States and France. The Canadian Index on Well-being, Measuring Australia's Well-being project and State of the USA are all trying to measure the well-being of its inhabitants.
Sabina Alkire, professor of economics at Oxford University, says such surveys are geared to measuring the quality of life irrespective of gross domestic product. "Happiness is a mysterious and profound thing, and any means of measuring it is imperfect," she said. "But it is much less imperfect than GDP."
The most significant GNH project, however, appears to be in France. The Quality of Life Commission, initiated by President Nicolas Sarkozy in August, with help from such notable economists as Nobel prize winners Joseph Stiglitz and Armatya Sen, is expected to launch its findings next year.
"I think that on all sides of the political spectrum there is recognition of these deficiencies, and a recognition that it is important that we develop better metrics, no matter whether you are on the left or the right," Stiglitz said at a conference on development in Cleveland earlier this year.
Meanwhile, some Bhutanese have noted a U.S. swing toward GNH in the campaign speeches of President-elect Barack Obama.
"Obama is using the same vocabularies," said Dasho Karma Ura. "He wants to bring health care back, wants to improve education, environmental responsibility.... We are basically talking about the same things."
National Happiness
Gross National Happiness is an approach to development unique to Bhutan. While conventional development stresses economic growth as the ultimate objective, GNH is based on the premise that true development takes place only when material and spiritual development occur side by side. For GNH to grow, government must concentrate on four key areas:
Promotion of equitable and sustainable socio-economic development.
Preservation and promotion of cultural values.
Conservation of the environment.
Good government.
In a bid to popularize the concept internationally, the Bhutanese government is devising a GNH index that is expected to be ready as early as the end of the year. Unlike the gross domestic product index, however, a GNH index measures the quality of life based on 72 standards.
"We've been chasing gross domestic product for decades, and now societies are starting to say we need to look beyond GDP and start measuring well-being," said Jon Hall, a project leader at the Paris-based Organization of Economic Cooperation and Development.
-------
Research assistance provided by the Investigative Fund of the Nation Institute in New York.